Regals Tear Past Poets with a Clean Sweep
California Lutheran University's women's tennis team swept Southern California Intercollegiate Athletic Conference opponent Whittier Feb. 25. The Regals won every doubles and singles match effortlessly, finishing 9-0 to win for the first time this season.
The doubles matches were won by wide margins as senior Emily Werman and junior Annette Sousa finished off the set 8-2 at court No. 1. After losing consecutive games while leading 6-0, Werman and Sousa closed out the set by breaking the opponent's serve.
Senior Shelby Kubota and sophomore Christie Kurdys took a commanding 8-1 win at court No. 2.
"I think this game I was just really aggressive in doubles. I was going for the middle, going for poaches and I think that helped with the win," Kubota said.
The third doubles match was a forfeit due to a lack of active players on Whittier's roster.
"People get injured at the beginning of the season because you're starting out and going really hard and people get hurt really easily. Usually we don't have short players on the teams that we play, but today it just worked out like that," Sousa said.
In singles, every Regals player won both of their sets in extraordinary fashion. Sophomore Sarah Seeman was on fire as she performed a double bagel, an impressive tennis feat meaning winning sets 6-0, 6-0 without giving up a game at court No. 4. Kurdys was successful as she also completed a thrilling double bagel, winning her match 6-0, 6-0 at court No. 2.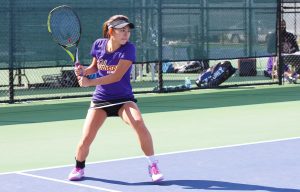 Sousa set the tone early and dominated on her way to victory 6-2, 6-1 at court No. 3.
"I came out more loose than I normally do. I really wanted to play well today just because it was a home match and it's our first home match we probably would have won, and we did," Sousa said. "So I think coming out with the mindset that I should just go for it and not really care about how I look or anything really helped a lot."
Werman clinched her match 6-1, 6-2 at court No. 1, and junior Nicole Neumann closed out her match 6-0, 6-3 at court No. 5. Number-six singles was a forfeit as Whittier only had five players at the match.
"I think they mentally stuck with it, like the other team wasn't quite at the highest level of play, and I think it's hard to play against teams like that. So I think they really stuck with it, they finished the match, they played well, not giving away too many games, so I think that's what they did well today," Head Coach Vanessa McPadden said.
The Violet and Gold showed substantial improvement after having to face more experienced teams earlier in the season.
"I think we did really well. We've been working hard on being aggressive at the net and coming together and cheering as a team, so I think we're not completely there yet, but we're improving which is good," Kubota said.
Cal Lutheran destroyed its first home conference match setting a high bar for the rest of the season.
Cal Lutheran (1-3, 1-1 SCIAC) will be playing its next match away at Cal Tech March 3 at 3 p.m.
"Cal Tech has gotten a lot better over the years, but I feel like if we come out strong, maybe even stronger than today we could do really well against them. I mean, our plan is to beat them so hopefully we'll do that," Sousa said.
Matt Weisman
Staff Writer