On Feb. 22, the Associated Students of California Lutheran University Government released the results of the election for president, senate director and programs board director for the 2017-18 school year. A total number of 411 students voted, which accounts for about 10 percent of the total undergraduate population.
Candidates for two of the three open positions, president and programs board director, ran unopposed.
For the 2017-18 school year, Nick Steinwender will serve as president. Samantha Schindler will serve as programs board director. Daniel Buonauro won the senate director position against two other individuals, David Curran and Alexis Ghattas.
Students were encouraged to vote both in person and on Blackboard. They were able to choose which candidate they would like to represent them or write in names. ASCLUG offered voters pizza or Sprinkles cupcakes if they came to the tables to vote in person.
"I'm excited for the next leadership for the next year," said Daniel Lacey, ASCLU president. "I'm looking forward to transitioning Nick Steinwender, who will be the next president, and also speaking into the lives of the other executive cabinet members for next year."
Lacey said the current executive cabinet came up with a list of government students who were qualified or had expressed an interest in running and met with them to "tell them about the role and the job before they actually commit to the election so they have an idea of what they're signing up for."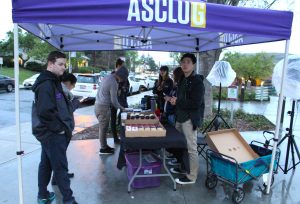 Lacey said that the 411 students who voted is an increase from the previous year. Lacey said this is partly because voters can now partake in the elections online through Blackboard.
Lacey said, to his knowledge, there is no other known statistics from this election besides total votes, such as how many votes each candidate received. Information Technology Service and Executive Cabinet Advisor and Associate Director of Student Life Andrea Treptow were both contacted to verify this, but neither responded.
All ASCLUG members were encouraged to run for all positions, Treptow said in an email interview. She was answering questions sent exclusively to Senate Director Brittney Martinez, who had no response and let Treptow answer on her behalf.
Treptow said she was helping her students answer questions since they were very busy that week, giving The Echo answers to only some of the questions sent to Martinez.
In order to run for an executive cabinet position, candidates must have at least two semesters of experience in student government, a minimum 2.0 GPA and status as a full-time student with 12 credits.
The requirement is to have two non-consecutive semesters rather than a year in order to "have that flexibility for people to run, but also have the experience," Lacey said.
For the programs board director position that ran unopposed, current Programs Board Director Andres Elvira said in an email interview that a few others had expressed interest in the spot, but chose to pursue other plans next year.
Students planning to run this year were required to attend a mandatory interest meeting Feb. 13, which Lacey said was an all-in-one replacement for casual meetings held in addition to the mandatory meeting in the past.
The meeting had five attendees, who were the five people running. They were given an election packet outlining the campaign rules, such as the $200 campaign budget spending limit. Write-ins, however, did not have to follow the same protocol, but Lacey said there were not enough write-ins to make a case this election.
"Yes, write-ins are possible to win this election. They must receive at least 50 percent of the votes in order to win. We highly encourage people to write-in people that they feel are qualified for the position," Elvira said in an email interview.
Elvira said the positions were announced a few weeks before the meeting, marketed on Cal Lutheran's HUB calendar and advertised through paper marketing across campus.
As far as the competition in elections, Treptow said in an email interview answering questions for Martinez that it varies year to year.
"It really depends on the class itself," Lacey said, who also attributed it to factors such as studying abroad or rules against working multiple on-campus jobs that limit people from running.
The new members will enter a transition period starting March 1, where they will learn about their role and shadow the current officer until they are able to take on the positions themselves May 1. The next round of elections will be for the ASCLUG senate in April.
"It is important for students to have a part in electing their peers that will make decisions on their behalf," said Treptow in an email interview. "The more students get involved, the more they can shape their own college experience."
By Dakota Allen
Staff Writer
and
Emily Graybill
Staff Writer