First-year Student Wins Mr. Kingsmen
On Feb. 24, a new record was broken at California Lutheran University when a first-year student won the title of Mr. Kingsmen for the first time at the annual Mr. Kingsmen competition.
Landon Navarro, a first-year student at Cal Lutheran, won the title of the 2017 Mr. Kingsmen.
Associated Students of California Lutheran University Government hosts this annual pageant where male Cal Lutheran students compete with one another in order to win the title.
Four seniors, three juniors, two sophomores and one first-year participated in the event. In prior years, upper-classmen have always taken the title.
"We had nominations at the Let it Snow event in winter so people nominated who they wanted to compete in Mr. Kingsmen, and we went from there," lead of the event Mandy Avella said.
Nominees got an email over winter break informing them that they were nominated to compete for the Mr. Kingsmen crown and title.
"Even being nominated to perform in this was such an honor for me. It is such a good time," fourth runner-up Matt Waxman said.
The theme of the competition this year was superheroes. Each contestant had to perform in three different categories: acting out their superhero, performing a talent, and modeling and dancing in their formal attire.
Avella said there were choreographers that worked with the contestants on each of their routines at rehearsals.
The audience voted on the top five contestants through Google forms.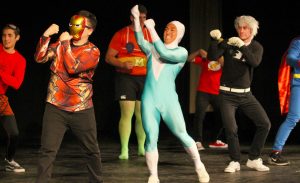 The top five contestants were Kevin Repich, Landon Navarro, Henry Bulmer, Matt Waxman and Daniel Buonauro.
The final five contestants went through a question and answer section in which the hosts asked them questions, and they had to answer as if they were actually their superhero.
Navarro started his performance as superhero Frozone from "The Incredibles." He wore a blue body suit and performed a skit from "The Incredibles." He then performed a hula dance and got the crowd cheering. Lastly, Navarro danced to an upbeat song in his formal attire. The crowd was loud as he performed his last dance.
"I can't believe a freshman won, or that I won. I didn't expect it at all. I am so excited and happy," Navarro said. 
Although Navarro made the cut into the top five during the first round of voting, he was not in first place. Navarro was fourth place during the first round of voting. Senior contestant Repich had the most votes during the first round of cuts.
After the second set of votes with only five candidates left, Navarro made a comeback and won first place while Repich was the first runner-up.
"This is the biggest honor that I have had in a long time, I cannot thank everyone enough for voting for me," Navarro said.
Navarro said that his favorite part about the whole experience was rehearsals because he got to know each of the contestants. The rehearsals for Mr. Kingsmen occurred every week leading up to the competition.
"We had three one-and-a-half-hour rehearsals a week and one dress rehearsal so it was a lot of work for all of us," Avella said.
ASCLUG hosts Mr. Kingsmen every year. More information about the event is on the ASCLUG Facebook page.
By Dakota Himmelman
Staff Writer