Quidditch Competition Turns into Harry Potter Party
February 27, 2017|41 Views
On Feb. 25, California Lutheran University Resident Assistants held a Harry Potter-themed party in the lounge of first-year residence hall Mt. Clef.
The event started out as a Quidditch competition where students would play a real life game of Quidditch against each other, but the event did not work out as originally planned.
"We were supposed to have a Quidditch competition but the field was wet from all of the rain we've been having, so we decided that we would just improvise and have a Quidditch obstacle course and a Harry Potter-themed party in the Mt. Clef hall," RA Nicole Reyes said.
However, not all students were informed about the competition being cancelled.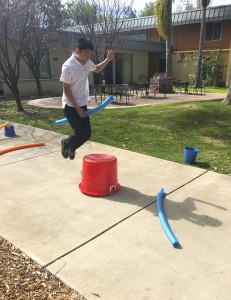 "I am a little upset about the cancellation of the competition. I really wanted to see the event," attendee Iain Thomas said.
Originally, there were about 60 people planning to attend. When the event was moved into Mt. Clef, most of the upperclassmen did not show up.
"We did a lot of marketing and talked to residents in Trinity and Mt. Clef, and so many people were interested, it just didn't end up working out in our favor because of the weather conditions. It actually had a huge response in the beginning," RA Sonora Carroll said.
The Harry Potter party was full of activities for the attending students. Students made their own wand, Hedwig the owl, took photo booth pictures, ate free pizza and popcorn and watched the first Harry Potter movie.
The Quidditch obstacle course was the busiest activity. The winner, Landon Navarro, won a $20 gift card.
"When I found out about a Harry Potter event I automatically asked when and where it was, I was so excited and made sure I could go to it," event attendee Lauren Hall said.
The Quidditch game is still being considered as a program, according to the RAs.
" I would definitely put it on again; so many people asked for a Quidditch competition actually, so I would just do it when the weather was a little warmer and when everyone could commit to coming," Reyes said.
Carroll said that the next Quidditch event will have a better system of signing students up for the competition.
"It's hard to get people to come out on a weekend especially because of busy schedules, but if they did another Quidditch competition I would definitely attend and watch it," Hall said.