CLU Student Places at Harvard National Model United Nations
Senior Jared Smith won the Outstanding Delegate award at the Harvard National Model United Nations in Boston, Massachusetts for representing Jamaica in the special committee on terrorism this past February.
The delegates determined the societal causes of terrorism, the factors that make people inclined to join terrorist organizations and what allows terrorist organizations to prosper.
"Jared's win is a culmination of a lot of the work that the other delegates had put in and it just shows that the Model UN on campus takes it very seriously and we do well representing the countries we are given, and the university too. It shows that Model UN is a good avenue to pursue on campus," said Model United Nations Head Delegate Jack Rockwood.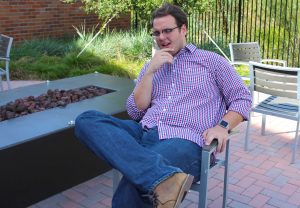 Smith is a political science and criminal justice double major. Since terrorism is a topic that is frequently brought up in his classes at California Lutheran University, he said he did not have a difficult time solving the issues at hand.
"My field of interest is specifically on international crime, counter-terrorism, American foreign policy and defense policy and how that all intertwines in the geo-political world to prevent terrorism and combat terrorism," Smith said. "So that was something that I was really excited to compete in because it is something that I am really passionate about in real life as well."
Rockwood said he believed a number of factors contributed to Smith's win.
"Jared was really proactive in finding good sources for information about the Jamaican government," Rockwood said. "He was in the special committee on terrorism which is pretty focused on what he studies here. So I think it was a combination of his knowledge beforehand, his work ethic, and his ability to speak publicly."
Rockwood said Smith and the other delegates accurately represented Jamaica after conducting a lot of research on the country.
"They did a really good job of finding out what their government's position is and what they're guiding ideology is. They really got into the mind of a representative from Jamaica," Rockwood said.
Since this was his last year in Model UN, Smith said he was more focused on enjoying the process, meeting new people and understanding the issues that were up for debate at the conference rather than winning an award.
"About halfway through the conference I was feeling like I was doing well and I was performing at a higher level, and it seemed like I was standing out in committee but I no way expected to get a top three award," Smith said.
At the conference, there were four different types of awards, including Accommodation, Honorable Mention, Outstanding delegate, and Best delegate.
Gregory Freeland, the faculty adviser for Model UN and professor at Cal Lutheran, believed Smith was efficient in his arguments, presentation, and defense.
"This will help in terms of our overall reputation and show that we can hold up against some pretty good competition," Freeland said.
Freeland said being a part of Model UN helps students develop a number of techniques.
"They can take away how to network, how to write solutions, debate skills, skills on how to resolve conflicts, skills on how to be confident in themselves in terms of their own presentations, and ways to phrase arguments when they might not agree with the argument," Freeland said.
Participating in conferences allows the delegates to meet people with similar interests to build relationships for social networking.
"It really pushes people to challenge themselves and to challenge each other and I think it makes people better and it creates really great relationships," Smith said.
Kate Artmann
Staff Writer