Regals Come Out on Top, Kingsmen Defeat Cal Tech and Drop Meet to La Verne
California Lutheran University's track and field Regals cross the finish line in first place ahead of Cal Tech and La Verne as Kingsmen run over Cal Tech in the first Southern California Intercollegiate Athletic Conference meet March 4 at University of La Verne.
The Regals defeated La Verne 102 – 59 and Cal Tech 139 – 12, while the Kingsmen lost to La Verne 122 – 38 but beat Cal Tech 102 – 43.
"We always have a few goals each meet that we head into. With this being a SCIAC meet and our first one of the year we have one main goal and that is to compete as hard as we can and to win both of the dual meets that we are going head to head with Cal Tech and La Verne," Head Coach Matt Lea said in an email interview.
The women's team performed extraordinarily as four jumpers placed in high jump. Sophomore Kelsey Rouse cleared the bar at 5'01" to finish in second place, junior Anna Schlosser soared 4'11" for third place, freshman Emma King leaped 4'9" to receive sixth place, and sophomore Brooke Stanley jumped over 4'07" to come in seventh place.
"We have the jumpers who are pretty good. There's Kelsey Rouse, she's doing extremely well this season and she did extremely well last season," Junior distance runner Katie Young said. "So that's a returner that we know that will excel."
The Regals showed a lot of promise in pole vault as freshmen Megan Pollock and Kayla Cross vaulted 9'05.75" for third and fourth place, and Rebecca Souza cleared 7'11.50" for fifth.
Freshman Kendall Guidetti led Cal Lutheran in long jump by clearing 17'08.75", putting her in second place.
"There's my roommate, my friend Kendall Guidetti and she's a really good jumper, she's also a really good 100-meter runner," freshman sprinter Ana Cordoba said.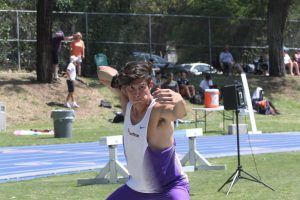 Freshman Morgan Snyder triple jumped 33'09.50" to claim second place and sophomore Rebecca Kozlowski took third with a jump of 32'01."
100m hurdles concluded with Rouse placing fourth with a time of 16.96 seconds.
Throwing events were dominated by sophomore Alexa Barnes and freshman Kate Cochran as Barnes finished first in hammer throw with a distance of 135'09.75" and Cochran came in third after throwing 126'03.75." Javelin had fourth and fifth place finishes by Snyder and junior Carson Nicodemus.
The steeplechase had sophomore Erin Knight place third with a time of 13:31.53 and Young came in fourth completing the race in 13:45.48.
"For steeplechase, I kind of just don't want to fall and hit the barriers, but for the mile I usually try to go out hard the first lap, maintain the second, the third's really hard so you try to push and gain some ground, and then the fourth is whatever you have left," Young said.
Running in the 1500 meter race was freshman Rachel Ereso finishing at 5 minutes 22 seconds claiming sixth place times, sophomore distance/high jumper Brooke Stanley finishing in seventh with a time of 5:25, Young in ninth and senior Lauren Chrislu in 12th at 5:58.
The Regals 4 x 100-meter relay team won by an entire second with a time of 48.89 seconds.
Freshman sprinter Sarah Dearborn won first place in the 400 with a time of 1:01.01. In the 100 Cordoba finished second with a time of 12.67 seconds, Guidetti came in fourth at 12.80 seconds and King came in sixth at 13.14 seconds.
"It's really nerve-racking actually because I know this time it counts. It's not like our last meet where we wanted to see where we were. In my mind, I'm really competitive, so I'm putting a lot of pressure on myself. So it's just not my first meet, it's my first everything, like my first times, my first competition, it's just nerve-racking. It's the best word to describe it," Cordoba said.
The longest race, the 5000 meter run ended with senior Sarah Parsons came in fourth at 20 minutes 25 seconds, freshman Erin MacNeil placed fifth at 20:28 and Knight came in eighth place 21:13.
For the Kingsmen, sophomore Nick Bedford and freshman Chris Brodnax came in third and fourth, respectively in the high jump as both cleared 5'10.75." Sophomore Jordan Wiley pole vaulted to sixth, while in the long jump, sophomore Dillon Brown launched for a distance of 20'10.25" to claim fifth place, and freshmen Jack Cockrell triple jumped his way to fourth place. Benedict Carandang finished in fifth.
In the discus, junior Ryan Fisher clinched third with a heave of 122'01.75" and freshman Adam Silverman came in fifth. For hammer throw, Fisher ended in fourth and Silverman claimed fifth. Senior Cody Jones placed fourth in javelin throw and Silverman threw the shot put, finishing in fourth.
The Kingsmen completed the 4×400 in third place with a time at 3 minutes 36 seconds while edging out their competition. Junior Timmy Kahovec came in clutch as he finished first in the 1500 in 4:09, and MBA graduate student and senior captain Daniel Tustin completed the race in 4:18.05 minutes.
"With my last season, I just want to leave it all out there. Especially with the last couple seasons I've just been trying to give it everything I have and taking care of all the details and really not wasting any of my off-season," Tustin said.
The 400 concluded with freshman sprinter Chris Brodnax claiming fourth and freshman eligibility Dallas Knapp coming in fifth. Junior Wendell O'Brien bolted himself to the finish line in the 100-meter dash with a time of 11.22 to claim third.
Kahovec clinched first place in the 800 meter run and sophomore Daniel Medina ended the 200 in seventh place.
Freshman Rigoberto Baza Carillo finished the 5000 coming in ninth, and the men's 4 x 400 meter relay team took home third.
"Another main goal, and this is for every meet we attend, is to come out of the meet healthy and ready to go for the following week of practices and meets," Lea said.
Cal Lutheran's next meet will be at the Oxy Distance Carnival Spring Break Classic Friday, March 10 at 11 a.m.
Mathew Weisman
Staff Writer