Ramirez Dives into Nationals
"She is pretty unique, she's got a lot of good abilities and talents and things that she has made into abilities and talents. She really listens, takes what you say and is very coachable," said swimming and diving Head Coach Tom Dodd describing sophomore swimmer Mardell Ramirez.
Ramirez has joined elite company being only the fourth woman in Cal Lutheran swim and dive team history to make it to the national tournament, and the first since 2008 when Jill Minehan competed in the 100 butterfly.
After leaving the team last year to focus on water polo, Ramirez has come back in her sophomore season. She shattered the swim record books at California Lutheran University.
"I felt awesome; it was really cool, I didn't really look at the records before going into the meet because I didn't want to make myself nervous," Ramirez said.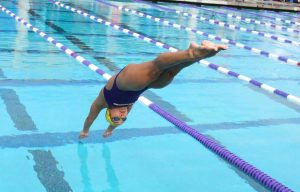 On the third day of the 2017 Southern California Intercollegiate Athletic Conference Swimming and Diving Championships, Ramirez broke four school records including the 50 free, 100 free, 200 free and the 100 back. She also broke the meet record in the 200 free with a time of 1:51.10.
"I was very happy, mostly I was just excited because my coaches were so proud of me," Ramirez said.
Ramirez has shown the ability to be a leader by stepping up when her team needs her to.
"She's brought a great attitude and speed. Mardell would sometimes be placed in events that she would normally not swim, such as the 200-yard butterfly which is one of swimming's toughest events and generally people do not jump at the chance to swim it," senior swimmer Brittany DeValk said in an email interview. "Although she'd be placed in these tough events, she did not sit and dwell on it nor complain. She knew what she had to do to help the team with a win. She is extremely versatile in the type of events she can swim and brings speed to all of them. She's an incredible sprinter."
Ramirez has a knact for compassion with all her fellow teammates and helps to put them in a mindset that helps them succeed. She gets to know them as people, not just swimmers.
"She is very well-liked by everyone on the team because she recognizes other people's abilities and talents, even if they're not the best athlete, she just appreciates them for the people they are," Dodd said.
The next stop for Ramirez will be the NCAA championships to compete in the 200 freestyle. The event will be hosted at the Conroe ISD Natatorium in Shenandoah, Texas from March 13 to 17.
"I feel great going in, right now my highest ranking is 13, so that's really cool. I feel like the coaches know exactly how to train me and I feel confident in their ability to make me go fast," Ramriez said. "I'm trying to not have any negative thoughts but also try and stray away from any other outcome other than my exact goal, which to place top eight and get a best time."
"I have no doubt in my mind; she will drop more time in her races at the national championship meet. I wish her the best of luck at nationals; I know she'll represent CLU well," DeValk said in an email interview.
The national championships are to be hosted by the Southern Collegiate Athletic Conference and the city of Shenandoah March 15-18.
Dillon Brown
Staff Writer