Students Meet State Leaders
A group of California Lutheran University students attended the California Republican Party Spring Organizing Convention in Sacramento, California.
They networked with leaders in the state party, volunteered and one student delegate voted on state party leadership.
The students traveled to the state capitol Friday, Feb. 24 with the university's chapter of California College Republicans, an umbrella organization with 50 active chapters.
"It's just a great avenue to get more involved in state party politics and in policy," said Jared Smith, president of Cal Lutheran's College Republicans who has attended the convention the past three years.
At the convention, the seven students in attendance were able to meet legislators, hear from "influential people" including Assemblymember Vince Vaughn and help in campaigning for state board position candidates, along with other convention activities, Smith said.
Professor of political science and faculty adviser for College Republicans Herbert Gooch III said the students got to hear from multiple speakers as the party is re-grouping.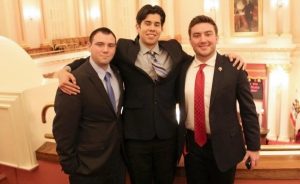 Nick Steinwender, vice president of College Republicans and Associated Students of California Lutheran University president-elect, said he served as delegate at the convention with full voting rights.
"It wasn't a huge event policy-wise because the election year's over," said Steinwender, who was able to vote on the California Republican Party board chair and other positions up for election.
Steinwender spent the week leading up to the convention in Sacramento with a group of graduate students who had the opportunity to tour the Capitol. The students also met with lobbyists and members of the state legislature, including Assemblymember Jacqui Irwin and State Senator Henry Stern.
Gooch took a graduate class to Sacramento Feb. 20-22, and offered for students in his California Politics class to attend.
Steinwender transitioned from the trip into the start of the convention Feb. 23 and stayed until Feb. 26, the day of voting.
"They used him in a lot of different ways," Gooch said.
Steinwender said he was also recognized for "volunteer of the year" for the state party. During the recent election cycle, he said he helped with over 12 campaigns.
This year, he is running for co-chair of CCR. Discussing what he would do in the role, Steinwender said the organization will be, "showing that we're a united party and we have a great vision for the country moving forward, because I know there's a lot of issues and hot debate with Donald Trump."
Cal Lutheran senior Luther McPherson IV served as a sergeant in arms at the convention, running security and checking name badges. He has also been an alternate delegate at the convention in the past, meaning he would get to vote in place of someone not in attendance.
Networking, meeting new people and having the opportunity to "talk about the zeitgeist of today's Republican party," was the largest component of the convention for college Republican students, McPherson said.
McPherson said he had an hour-long discussion with a student from University of California Berkeley on free trade, an important issue to McPherson.
As a testament to the value of the convention, McPherson said he was approached by the chief of staff of a state assemblymember and given a job offer because of his work as a sergeant in arms.
Smith said College Republicans is dedicated to exposing members to networking, "deeper investigation and understanding of conservative and Republican ideology and philosophy," as well as jobs, internships and campaign opportunities.
The on-campus chapter monitors local races looking for opportunities for interested members to work in campaigns, Smith said.
He said at the convention, they helped Kristin Olsen campaign for California Republican Party Vice Chair by putting up signs and distributing flyers, and helped Jim Brulte run for his fourth term as chairman, both of whom won for terms lasting two years, according to state party bylaws.
The club is now trying to recruit students to attend the upcoming CCR convention in Sacramento, Smith said.
"I would encourage people to join College Republicans or at least attend our meetings. I know that there is a big political division in our nation and especially our universities, and kind of a misunderstanding of what it means to be Republican in the modern age," Smith said.
The club meets Thursday nights 8 – 9 p.m. in Swenson 101.
Dakota Allen
Staff Writer