BREAKING: Two-car accident sends Cal Lutheran student to hospital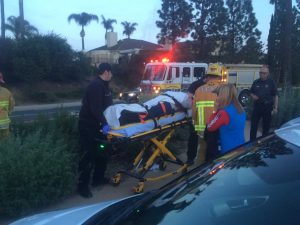 A two-car collision occurred at the intersection of Memorial Parkway and Mountclef Boulevard at California Lutheran University March 7 at approximately 5:40 p.m. This caused one of the vehicles to flip over and roll at least twice before stopping on the side of the road upside down. The driver, an unidentified female Cal Lutheran student, sustained minor injuries.
Witness and first responder Michael Khatchadourian, a first-year student at Cal Lutheran, pulled the commuter student out of her white Mazda CX-5 that had flipped over. He said she was able to stand and talk, and that she only complained of minor cuts to her left arm and a sore neck.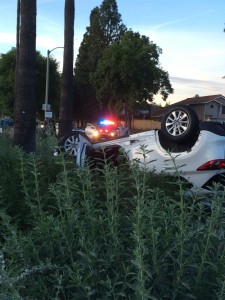 "She seemed pretty rattled," Khatchadourian said.
Sophomore Jake Gould was driving the other car involved in the accident, a white Kia Optima. He said he was turning left onto Mountclef Boulevard and did not see the female student traveling south down Mountclef Boulevard and hit her car, causing her to lose control. Gould sustained no injuries.
"After a long day, been here since like 5:30 [a.m.] covering the football team's spring practice…looked right and looked left, but as I looked left it was just kind of going through the motions…wasn't fully aware of my surroundings like you're supposed to be and unfortunately hit her," Gould said.
Peter Gessert, who lives in the area, said he was walking his dog with his wife Stacey Gessert when they heard the collision and saw the car flip. He said his wife called 911 and the police arrived within five minutes.
The ambulance arrived approximately five minutes after the police. They placed the driver of the Mazda CX-5 on a stretcher in a neck brace and drove her to the hospital at approximately 6 p.m.
Before police and paramedics arrived, Jake Hitch, a first-year at Cal Lutheran, was on his way to Mount Clef Hall with Khatchadourian and had pulled the female commuter's belongings out of the passenger side of the car including her cell phone, which Stacey Gessert used to call the young woman's mother, sister and classmate.
"She had me call her classmate to tell her she wasn't going to make it to her presentation," Gessert said.
Gould said he does not know what part of the girl's car he hit causing it to roll.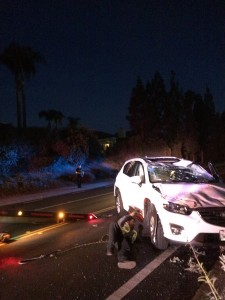 "I hit her and my car didn't move," Gould said.
Three Thousand Oaks Police cars, multiple Campus Safety officers and two tow trucks were on the scene as residents of Pederson and Thompson Hall stood in the parking lot watching.
Campus Safety Officer Dan Castellini said the situation is an ongoing investigation being handled by the sheriff's department and would not release the name of the other student involved in the accident.
An officer from the Ventura County Sheriff's Department spoken to on the scene also said it was an ongoing investigation and would not release any information.
"It was just an accident in the intersection," the officer said.
The scene cleared at 6:48 p.m. and both vehicles were towed away. The Kia Optima had damage to the front of the vehicle, while the Mazda had a fully cracked window shield, crushed roof, dented hood, deployed airbags and other substantial damage.
Dakota Allen
Staff Writer