Regals Fall to Division I Competition Valparaiso
California Lutheran University's women's tennis team took on NCAA Division I opponent Valparaiso University in a nail-biting dual match March 10.
The Regals brought home one doubles win and three singles victories in the three-and-a-half-hour match against the Indiana team, but fell one match point behind the Crusaders 5-4 in the end.
The Violet and Gold took command of the court in singles matches after coming off a 9-0 loss to University of Mary Washington March 9, a team ranked No. 15 in NCAA women's tennis.
As the sun began to set, sophomore Christie Kurdys destroyed the match 6-1, 6-1 at No. 1 by breaking the volley with a crosscourt backswing into unguarded territory. Kurdys won the first singles match of the night for Cal Lutheran.
"The expectation of [playing] a Division I player is that you're going to get crushed because you play Division III, and it's kind of what everyone thinks," Kurdys said. "But that doesn't mean I have to lose. So I came out here thinking 'I can do this' and tried to get as many games as I can and it just worked out."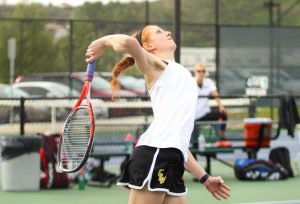 Kurdys said her confidence in performance peaked during pre-game warm ups with the Crusader when the opponent "didn't hit as hard as [Kurdys] thought" and began to fall behind on the scoreboard at 3-0 in set two.
"Going into singles, it's more figuring out on [your] own what to do because I don't have a partner to tell me what I'm doing wrong," Kurdys said. "I just tried my best and didn't let yesterday's game affect me."
At No. 2, senior Emily Werman fought an exhaustive battle under the Poulson Tennis Center lights, claiming a 6-4, 6-2 victory over Valparaiso and the second singles win of the evening for Cal Lutheran.
Werman said she was behind 3-0 in the first set of the singles match, but saw an opportunity to regain control with dominant first serves and deep strokes near the baseline when the opponent "got kind of tight and started to make more errors."
"Honestly, the longer you can stay in the game the longer your opponent has to stay on the court, too," Werman said. "I'm a great doubles player, I feel, but I have to fight really hard in singles. I just like the fight. Even when I was down in this match, it could've been easy for me to get down on myself but I stayed with every point and saw it through."
Regals shut down a third and final singles match at No. 4 when sophomore Sarah Seeman closed out her opponent 6-3, 6-2 after an intense rally lasting 13 shots and covering much of the court.
Seeman's match concluded the Regals' fight against Valparaiso, but not before senior Shelby Kubota defended for the Violet and Gold in a tiebreaker match at No. 6.
Kubota sealed the second set at 4-6 after a 6-2 loss to the opponent in set one and was determined to win the final set, despite being set back by a recent shoulder injury. After a lengthy struggle to keep up with her opponent, the tiebreaker went to Valparaiso 6-1 in the end.
"Gianna [Cupo] and I are injured right now, so we can only practice for about an hour and we are very limited to what we can do," Kubota said. "In singles, I'm more of an aggressive baseliner. I try to grind it out with them instead of finishing the point off right away, I want them to make the error."
Kubota said even though her injury has limited her singles practice in the past weeks, she was just "glad to get [the opponent] to the third set" after challenging two teams in higher standing earlier in the season.
"She was a really, really good singles player, she got everything back to me," Kubota said. "It's fun to get some match play though. I think our coach is wanting to get us more competition… so we can reach our goal of getting into the top 30 teams or place third or fourth in SCIAC."
The only doubles match the Regals took on the March 10 battle was at No. 2 where Cupo and Seeman finished off the set 8-6 with a hard serve from Seeman, and the Crusaders opponent hit the net.
Cal Lutheran (1-6, 1-2 SCIAC) will return to Poulson Tennis Center Monday, March 13 at 6 p.m. to challenge Southwestern University in a split doubleheader with the Kingsmen, who play Schreiner University at 2 p.m.
Olivia Schouten
Staff Writer