Transgender Discussion in the Capitol and on Campus
"The Trump administration on [Feb. 22] revoked federal guidelines specifying that transgender students have the right to use public school restrooms that match their gender identity," according to The Washington Post.
Transgender discussion in the capitol has also raised conversation at California Lutheran University.
The Difficult Dialogues Series hosted a discussion with faculty and students on transgender issues. People shared knowledge and their personal experiences with transgender family members and friends, and suggestions for accommodating transgender students on campus.
Mindy Puopolo, who has a doctorate in clinical psychology and is director of the PsyD Program in clinical psychology at Cal Lutheran, said everyone contributed opinions and difficult questions openly and with sensitivity.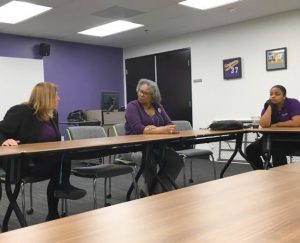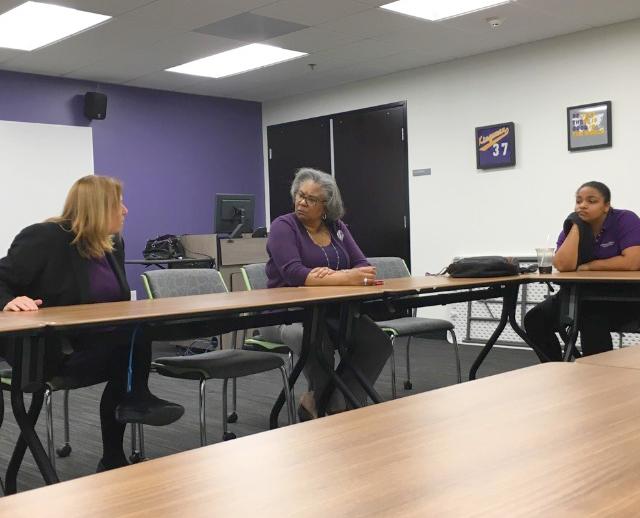 "[The purpose] I think it was to have a dialogue or a conversation about transgenderism and transgendered individuals at Cal Lutheran, and to talk about how we can be better at embracing transgenderism, helping people feel comfortable, kind of promoting awareness," Puopolo said.
Juanita Hall, senior director of the Multicultural and International Programs, shared a personal story of hers with a Cal Lutheran transgender student.
"I had a Chinese student who entered the school as a male and at the end of her transition when she was actually applying for what's called OPT, it's a benefit of the F1 student visa. We got to the place for gender, which was completely binary and she looked up at me and she says, 'what do I do?' I had to tell her. It was heartbreaking to me. I had to say, 'you have to put what's on your passport', which was male, and she cried," Hall said. "I don't blame her. I mean it's very, very hard. She had gone through all this change, and when someone's transitioning you see it so much and then to have to revert back to that on an application was just gut wrenching."
There was also an educational aspect of the discussion, which took place March 7, and taught the history behind gender reassignment surgery.
Johns Hopkins was the first school to start doing sex change operations in 1965, but stopped doing the operations for nearly forty years due to controversy.
According to Hopkins Medicine, on Oct. 7, 2016, they stated they are going to start doing transition procedures again.
According to health insurance company Aetna, there is a checklist that needs to be completed in order to be approved to have female-to-male gender reassignment surgery. The list to have a mastectomy, the removal of the whole breast, includes having referrals written from a qualified mental health professional, well-documented gender dysphoria, a capacity to make a fully informed decision and to consent for treatment, and if significant medical or mental health concerns are present, they must be reasonably controlled.
As the discussion continued, faculty discussed ways Cal Lutheran could make changes to assist transgender students and help them feel comfortable.
Cal Lutheran has already started asking students their preferred name instead of their name on their birth certificate. It will also display preferred names on the student rosters and on WebAdvisor to make students feel welcome on campus.
"Cal Lutheran has been very, very helpful to me. One professor, his name is Dr. [Peter] Carlson, with meeting him, he's asked me if there's access to gender neutral bathrooms and wants feedback and to see how comfortable I'd be using the facilities," sophomore transgender student Toby Keagy said.
The school's campus currently has some gender-neutral bathrooms, but not in all buildings. As of now, transgender students have to plan throughout the day depending on their location, where gender-neutral bathrooms are on campus.
"I have not used the locker rooms here. They are near the fitness center, and I have not entered that [building]. Honestly, I would not feel comfortable being in the locker rooms to change," Keagy said.
Hall supplied a list of options for transgender students looking for places providing support.
"Safe Zone program, and then there are RAs who get good training, and our peer advisers get training. There are faculty and staff. That Safe Zone sticker, we don't just give those, they have to go through training to get those. They can find the list of Safe Zone allies on the student counseling website. Our campus ministry is also, which for some people they may not think that, but it actually is a very open place and available to students in that way," Hall said. "Our office is and we do have PRIDE on campus, and I did mention and I will again that it really depends on the students who are involved each year. It has its own identity."
For current transgender students and incoming students, Keagy said, "Seek help, go to the Student Counseling Services, talk with your professors, they are here to help. Try to have at least one person you can really confide in and trust."
Matt Weisman
Staff Writer