Kingsmen Go 2-3 in Cal Lu Fornia
California Lutheran University's Kingsmen volleyball team came out on top racking up two more wins and just one loss in the annual Cal Lu Fornia Invitational tournament.
On March 10 the Kingsmen spiked off their tournament against Benedictine University of Mesa going head-to-head in a full five sets.
"It was a great match, a great team. They are a super dynamic team and it went to five so it was really close and it was a really competitive game but we finished it through," freshman outside hitter Mason Mercer said.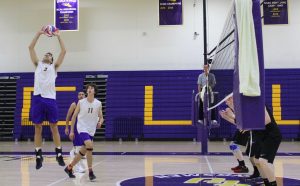 According to the CLU Sports website, the Kingsmen started strong early on with senior outside hitter Kristian Gallardo earning 12 straight points on serve. After battling through, Kingsmen freshman outside hitter Patrick Rowe got four kills accumulating his career high of 17 kills to help lead the Kingsmen to the top and earn their win in the fifth set.
"It was the biggest match of the tournament for us, victory wise. My boys stepped it up and played a tough team. It was a phenomenal performance by all. I was very impressed by how we stayed consistent the entire match and we got the W," Head Coach Kevin Judd said.
Going into the second game the Kingsmen fought a more challenging match-up against the No. 10 team Wentworth Institute of Technology. After going only three matches, Wentworth got their grip on all three wins.
"We needed better passing. Less service serves and we would have been right there with them," freshman middle back Justin Dietrich said.
Judd said Wentworth was a big team with bigger centers than Cal Lutheran is used to. He said the team has probably the fastest offense that the Kingsmen could learn from.
"We needed a little bit more energy. There were times where their middles were hammering balls because they were so big but I think that if we have more confidence to match up against them we would be good because I think we can match up against any team we compete against. We just need to find it within ourselves," Mercer said.
The Kingsmen ended their tournament on a high note after going 3-0 against Regis University March 11. In the first set Mercer had a seven-point streak while Gallardo sparked two aces behind the service line.
With the entire team fighting hard, Rowe finished with a game-high of 13 kills, Mercer tied his career high of 12 kills, and senior setter Nick Shoemate had 34 assists, five kills, three blocks and three digs. Senior libero Jamal Balkhi had six digs, and both Dietrich and senior middle-back Michael Campbell had four blocks according to the CLU Sports website.
"We did it in three. We did what we needed to do. We matched up better and were a few positions stronger and that helped us get the win," Judd said.
Next the Kingsmen will go to Hope International University for their next match March 14 at 7 p.m.
"It gives my guys a breath of confidence, like 'hey we can do this'. We can go out there and compete with them. That's what we are going to try and use to go into next week," Judd said.
Maryssa Rillo
Staff Writer