Her Campus Celebrates Internation Women's Day
On International Women's Day, California Lutheran University's students went to the Spine between 11 a.m. and 1 p.m. to show their support.
Her Campus, the Cal Lutheran chapter of the national organization, joined other clubs in setting up booths on campus.
International Women's Day is a day to recognize the value of women in society including in the workplace, the economy and in their families.
"International Women's Day is really a time to celebrate being a woman and all we have been through, how far we come, and just to be proud of who we are, and what we can do," said Her Campus President Dani Kluss.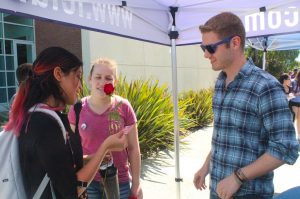 The event filled the spine with more than 15 clubs, activity booths and information.
"Events like this are really important to kind of bring that community together and show that sisterhood doesn't have to be a competition that most of the time is shown like cat fights in movies and stuff like that, and today everyone can come together as one inclusive unit and support each other," Kluss said.
Some of the organizations in attendance included Relay for Life, Latin America Student Organization and iCLU Radio, which hosted a radio show covering the event and gave students the oppurtunity to shout out a special woman in their lives over the airwaves. The Center for Equality and Justice was also there to educate students on human sex trafficking.
"You have information tables here with different areas of concern. Our theme for our table is human sex trafficking and the impact because this often, not a hundred percent, but this is often a crime against women. Women are often the ones trafficked and one of the things we are trying to get through is that one, this doesn't just happen out of the country but in the United States," said Cynthia Duarte, director for the Center for Equality and Justice.
International Women's Day was adopted by the U.S. in 1975, and March 8 was made the official celebration day in 1977. Each year the day has a different theme and this year the theme was Women in the Changing World of Work.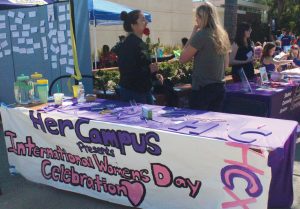 According to the article "Gender Inequality and Women in the Workplace" from Harvard University,  the latest data from the U.S. Census Bureau shows that women only make 79 cents to every dollar a man earns.
"Our goal for this is to just celebrate women and to bring a supportive environment to campus, showing that we're all here to show support for women on campus and that we are all here for each other," Kluss said.
Kluss said she was happy with the number of people that came out to support the cause on International Women's Day.
Many students, men and women, came out to the spine to help spread awareness of equal rights and were there to help support Her Campus and drive people to have a better understanding on women's rights.
"I just want to get our word out. I'm from Her Campus so I want people to learn more about us, we set off this event to learn more about us as a whole. Learn more about all of girls, because all of us are great and have accomplished great things," said freshman Francheska Cal, assistant social media director for Her Campus.
Dillon Brown
Staff Writer