LA String Kollectiv Perform at William Rolland Stadium
The LA String Kollectiv performed at the William Rolland Stadium and Gallery of Fine Art 4 – 5:30 p.m. March 11. 
The three performers were Gulia Gurevich playing the violin, her husband Alexander Gurevich playing the viola and Virginia Kron on the cello.
The performances were in relation to the artwork exhibition Et in Arcadia Ego, and the paintings hanging inside the gallery.
Gulia Gurevich is a founding member of the LA String Kollectiv.
"I approached Rachel Schmid [curator of the gallery] to inquire about a potential performance in the area. I've heard about the gallery, such a lovely space, and so I was very excited when Rachel said, 'Why don't we organize something?'" Gulia Gurevich said.
The first work performed was a string trio by Franz Schubert, where all three performers played. Alexander Gurevich added that the Schubert piece was meant to be part of a larger work, but Schubert never finished it.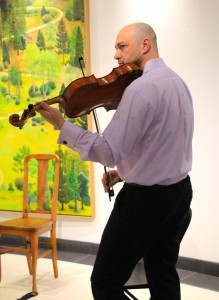 "You could imagine that this was a transition between the two compositions, and is more about exploring string instruments and string ensemble," Gulia Gurevich said.
The second work was a duet played by Gulia and Alexander Gurevich, and it was called Passacaglia.
"This piece was the kind of genre that was popular at the time to make arrangements and exhibit in virtuosity," Alexander Gurevich said.
This performance had a fast, upbeat tempo.
The last performance was a string trio serenade of Erno Dohnanyi, displaying a slower, calmer tempo than Passacaglia.
"This serenade is very much about showcasing instruments and different things and having fun with these pieces," Alexander Gurevich said.
"I wanted to create an ensemble of string players, because our family are all string players, and we have been pretty active with our performing in the Los Angeles area," Gulia Gurevich said. "Hopefully CLU students and faculty will be able to enjoy this program with the music going on and what is on the walls at the same time."
After the performance Alexander Gurevich said, "I thought it went very well, we really enjoyed ourselves. It's really nice to play in this gallery, a beautiful space that is really inspiring."
The performers received recognition from the audience.
"It's difficult to measure how much you prepare for any particular performance, but this one was not easy, with a lot of difficult pieces," Gilia Gurevich said.
David Brown 
Staff Writer