Max Weinstein Steps Up for the Kingsmen
"He's a student of the game. He knows what to do, he knows where to be. He has an idea of what everyone else is trying to do, so that he can help us accomplish our goal," senior catcher Eddie Villegas said.
California Lutheran University had recruited a dual player from Canyon Country, California to pitch and play the field for the Kingsmen's 2014 season. Junior infielder Max Weinstein, the 2013 Foothill League Player of the Year, batted .438 in 2013 and helped Canyon High School win the All-CIF Southern Division championship the same year. Weinstein was preparing to attend Cal Lutheran, when he received a call from the Head Coach at University of California Irvine, a NCAA Division I university in the Big West Conference.
"The head coach at Irvine said some of his pitchers were selected for the [MLB] Draft and he needed to fill the spots," Weinstein said. "I was shocked they wanted me so late in the game. I wasn't your typical DI athlete, I mean I had the stats for it but I didn't have the build or anything."
The coaching staff at UC Irvine told Weinstein he would get the chance to play the infield in addition to pitching but later limited him exclusively to the mound, a decision that ultimately prompted Weinstein to consider transferring, he said.
After recovering from a partially torn UCL in his right elbow early in the 2016 season, Weinstein made his 2017 debut in the Feb. 10 game against Linfield College during the Cactus Classic in Tucson, Arizona.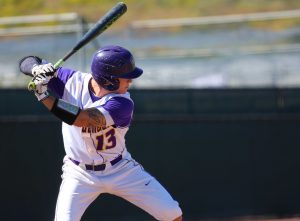 "People always say baseball is a game of failure. If you succeed only three out of 10 times, you're technically a really good player," Weinstein said. "It doesn't really matter how many times you fail, to me, but those few times you do succeed it's the best of feelings."
Although he only appeared in seven games during 2016, Weinstein made an impressionable comeback for the Violet and Gold the next year by hitting a triple into right-center during the first home game and Southern California Intercollegiate Athletic Conference meet of his junior season.
"For this team this year, he's one of the few guys that is able to put the team on their back," Head Coach Marty Slimak said. "And so far he's been carrying it, especially offensively, for us."
Weinstein went on to further his hitting streak by raking in three consecutive singles in a series doubleheader against the University of La Verne Feb. 19, despite the Kingsmen dropping the series to the Leopards in the end. Weinstein helped put Cal Lutheran to an eight-game winning streak in March by hitting a two-RBI double into center field. That play pushed the Kingsmen past the Occidental Tigers by large margins.
"This season I think Max has definitely stepped up to take the leadership role," senior outfielder Sinjin Todd said. "He's one of our main guys, and helps us play for each other rather than for ourselves."
Not even mid-season and Weinstein currently holds the highest team batting average at .411, a feat that includes 13 total RBI's, four walks, 37 hits and two homeruns. He also owns the highest slugging percentage for the Kingsmen, at .600, and fourth highest on base percentage at .454.
"There's not much to it, just hard work and consistency. I'm trying to play the way I felt I lost when I went to Irvine," Weinstein said. "Getting back to the real me on the field, and I think my biggest accomplishment this season has just been recovering from my injury to become a pivotal player on our team."
"He leads by his play, and it's interesting because you don't really get many of those guys," Slimak said. "Nobody has to tell him 'c'mon Max, pick it up' or 'c'mon Max, make something happen', we all just know it's going to happen with him."
Weinstein said his role on the team is one where effective leadership is "not trying to lead the team at all". The infield transfer from UC Irvine holds humility and relationships with his teammates at a high standard and says it is crucial to playing cohesively.
"His character, it's hard to question it, really," Villegas said. "Besides the batting average, besides the jokes, him being that great teammate with that great character is what makes Max Weinstein, Max Weinstein."
Olivia Schouten
Staff Writer