Zane Jarrett Shows Golf Skills as a Newcomer
Junior student athlete Zane Jarrett has played multiple sports throughout his career at California Lutheran University. While Jarrett came to Cal Lutheran for baseball, he later found golf to be the best fit for him.
"Baseball wasn't going anywhere. I'm kind of skinny and not really built for baseball, and it showed on the field. I've been golfing all my life and I'm decent at it. I've had periods where I put a couple months of practice in and have seen good things so I thought it would be cool to give it a shot at Cal Lutheran and hopefully contribute to the team," Jarrett said.
In the team's first match of the season, the men's golf team competed as individuals in a dual match against Chapman at Tierra Rejada Golf Course, where Jarrett led the way for the Violet and Gold shooting one-over 73 on the 6557-yard par 72 course, according to clusports.com.
"He was a surprise actually. I didn't recruit Zane. He came as a baseball player initially. He called me in the fall and said he wanted to try out and to be a part of the team, so I told him to come try out in the spring," Head Coach Jeff Lindgren said. "He's a very athletic kid and he's got a lot of talent. He qualified for the Pasadena Golf Tournament, which was our first SCIAC event. I'm excited for him and I'm excited for us that he will be playing for us this season."
In his first league appearance at the Southern California Intercollegiate Athletic Conference tournament in Pasadena, Jarrett shot the most consistently of any of his teammates, recording a 76 in both rounds and tied for 18th overall.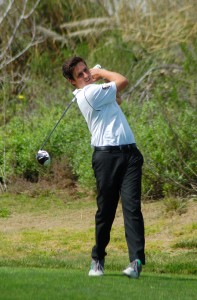 Senior team captain of the golf team Nate Gray recognizes Jarrett's talents and said he is excited to have him on the team this season.
"I've noticed Zane is very competitive. And that is a very good thing. It's given him an edge over some of the other players on the team this year no doubt. He's a hard worker, a smart guy, and it's a pleasure to have him as a teammate," Gray said.
A Philadelphia native raised in Maui, Hawaii, Jarrett's upbringing revolved around sports and competition.
"I've been playing sports all of my life, since I was 5 years old really. When I was 3, my parents were always giving me balls to play with. I started with baseball and soccer, then golf came when I was about 10," Jarrett said. "My dad is a big golfer. He has taken me to a few PGA tournaments and they both are huge supporters. He gives me the mental advice in golf. You know not to let a bad hole ruin the whole round. Put it behind me and move on."
Being the new guy on the team certainly comes with its challenges, but Jarrett's teammates and coaches recognize what Jarrett has to offer.
"In the short amount of time I've had with him on the golf course, he's definitely got his head on straight. He's determined and you can tell he wants to work hard and he wants to get better," Lindgren said. "Those are two good traits to have – determined and even-tempered, both good for golf. Zane has been consistent, and that consistency in golf is a huge thing too. He's got a lot of good things ahead of him."
"Zane's biggest strength I'd say is his competitiveness. He is always trying to do better than you on every shot. His biggest challenge is just that this is his first season as a college golfer. He is still getting used to how everything works and competing in tournaments all the time," Gray said.
"I love golf. Like Tiger Woods said, I'm addicted to golf. I'll just keep doing it every day and hope to go pro after college. I have a good work ethic so I'm going to keep practicing and keep getting better. That's my dream, to be a professional golfer some day," Jarrett said.
Cal Lutheran will hit the course again April 8 and 9 at the SCIAC No. 2 tournament at Oak Quarry Golf Course in Riverside, California.
Tate Rutland
Staff Writer