Post Graduation: Two Years in Tanzania
Graduating senior Lauren Chrislu has committed to serving two years with the Peace Corps.
California Lutheran University senior Lauren Chrislu is set to join the Peace Corps this summer following her graduation in May 2017.
According to the Merriam-Webster Dictionary website, the Peace Corps is, "a body of trained personnel set as volunteers especially to assist underdeveloped nations."
Chrislu is a math major and tutor who was selected to join the Peace Corps as a secondary education math teacher in Tanzania, a country in East Africa.
"I wanted to experience something that was completely different, to live on less and to really appreciate what we're given," Chrislu said.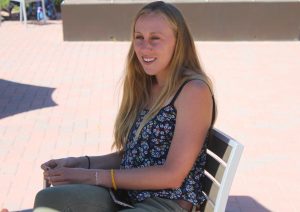 Chrislu is very involved in Cal Lutheran extracurricular activities. She plays flute in the Wind Ensemble, is on the Cross Country, Swim and Track sports teams, and also works as a tutor and is the Math Coordinator for the Math Lab.
"Being a member of three sports teams has helped me learn to cope with physical hardships, and being a math major has helped me be someone who can solve problems from multiple viewpoints," Chrislu said.
Chrislu has also made an impact on her peers at Cal Lutheran.
"Lauren is my partner in one of my biology classes, and even though it's not her major she has always been smart and reliable and always really nice," junior Amanda Slider said.
According to an email interview with David Reese, a public affairs specialist for the Peace Corps, the highest number of volunteers who are selected for the Peace Corps service apply soon after graduating college, with an average volunteer age of 28.
Chrislu said there is a group of around 40 people who are either in Tanzania or preparing to embark on their service there.
"I'll be with a host family for the first three months during training where we learn the culture, language and specifics to the job. Once you graduate from training you go into your specific field of service," Chrislu said.
Chrislu is set to leave for Tanzania July 8.
"Because it's two years, making time for friends has been a priority now more than in any other semesters. But for after graduation, I figured why wait?" Chrislu said.
To prepare, Chrislu said the Peace Corps sent her an extensive document on things to be aware of such as the modest clothing, religion and climate of Tanzania.
"I'm excited to get to a point where I'm more an insider as opposed to an outsider where they feel free to talk to me about anything going on in their community without a front," Chrislu said.
There is also an extensive medical clearance process that includes many vaccinations, a physical and the preparation of any medication one would need for the entire two-year period.
"Just trying to imagine, not having plumbing or electricity. Every time I get in the shower now. I think about how incredibly blessed we are to have running water versus fetching your own and then having to boil it for 20 minutes to make sure its clean," Chrislu said.
Reese said that during the fiscal year from October 1, 2015 through September 30, 2016, the Peace Corps received more than 21,000 applications from Americans.
According to the Peace Corps website, there are currently 7,213 volunteers and trainees, with 40 percent working in education and 47 percent working in Africa.
"There have been a total of 76 volunteers both undergraduates and graduates from Cal Lutheran who have served in the Peace Corps since the agency's inception in 1961," Reese said.
After returning from the Peace Corps, Chrislu said she is thinking about going into data analytics or actuarial science.
"It's exciting to be able to have a broader worldview and see how others are living on less and still living a fully and happy life," Chrislu said.
Rebecca Austin
Staff Writer