After last year's hiatus, the Scandinavian Festival returned to California Lutheran University on April 1 and 2. The festival was hosted from 10 a.m. to 5 p.m. in Kingsmen Park.
Saturday started out with an opening ceremony, and the national anthems of Denmark, Sweden, Finland and Norway were performed. Cal Lutheran student and president of the Scandinavian Student Club, Katherine Reaves, sang the national anthem of Denmark.
"Providing a look at the Scandinavian heritage and culture,  that I believe is what our most important goal is," said festival Co-Director Larry Ashim, who has been working at the festival for 20 years.
There were numerous tents set up that displayed the Scandinavian heritage. There were tables displaying Scandinavian paintings, playing music, engaging students in a  Nordic shopping mart, and a "Ravens of Odin" Viking Encampment and saami teepees. The Saami people are an indigenous Finno-Ugric people who inhabit parts of northern Norway, Sweden, Finland and Russia.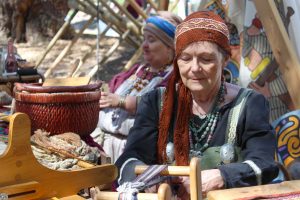 There was Scandinavian food such as Swedish pancakes, aebleskivers, viking dogs, swedish meatballs, fish 'n' chips as well as more traditional food like Italian ice and kettle corn that was a main attraction at the festival.
The Swedish pancakes contrasted with regular pancakes because they were thinner. The Viking dogs were similar to American hot dogs and came with the option to have grilled onions on top. The aebleskivers, sphere-shaped pancakes covered in powdered sugar and fruit syrup, are a delicacy in the Denmark culture. They were a hit among the attendees of the festival, as the line for them was very long.
Another main attraction at the festival was the music. The Redwood Middle School Jazz Band and Scandia Dancers of Ventura and Santa Barbara Counties were among the groups who performed on Saturday. On Sunday, Nathan Muus presented Saami Joik: A Traditional Saami form of singing. Ann-Marita Garsed performed Norwegian and Swedish folk songs, and Marty McCambridge and Sonia Rudd shared Scandinavian fairy tales.
"The university started this in 1974 and the community was almost all Norwegian," said festival Co-Director Karen Ashim. "Something we are doing for the very first time this year is we have a DNA expert who is selling DNA kits to test if your family genealogy has Scandinavian roots."
"This year we have a new rock climbing wall and also the kids programs are phenomenal. They visit five countries and for each country they make a craft, and the kids really enjoy head wreath making," Ashim said.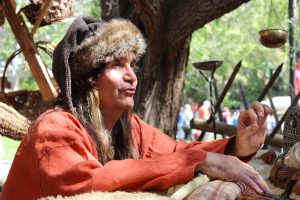 Ashim also stressed that the Scandinavian Festival is meant to be a gift to the community.
Lana Lundin, student coordinator and a member of the Board of Directors of the Scandinavian American Cultural and Historical Foundation, worked at the festival.
"My main responsibilities are to find students who want to work here for the weekend and make schedules for the almost 70 Cal Lutheran students that volunteer. I think the children's crafts and head wreath making parts of the festival are my favorite and a lot of fun because of the traditions," Lundin said.
There was no Scandinavian Festival held last year.
"With any volunteer organization there is always a problem with getting people to come and help and take over the hard important jobs, so that's what happened last year," Larry Ashim said.
The festival was sponsored by the Scandinavian American Cultural and Historical Foundation.
David Brown
Staff Writer