Ghostlight Productions Hosts Dispersion Ten Minute Play Festival
The members of Ghostlight Productions hosted Dispersion, a Ten Minute Play Festival, in California Lutheran University's Black Box Theatre March 30 through April 2.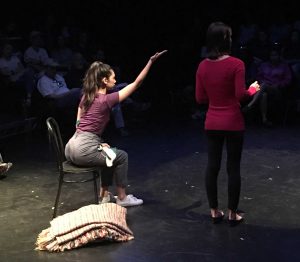 Ghostlight Productions is comprised of seniors who are enrolled in the capstone class for Theatre Arts. The festival itself is a collaborative project of the Theatre Department, with student directed and written 10-minute plays.
"Honestly it was just really fun the whole time, it is hard to explain but my actors took direction really well and they got my view, they were just really easy to work with and I had a good time," student director and senior Annika Dybevik said.
The Ten Minute Play Festival included nine short plays, with two being student written such as "Empty," written by senior Carly Crocker and "Career Path," written by senior Kevin Repich.
"Writing was really fun, I submitted it to a comedy and the class kind of voted on if they wanted to produce it, and then I was involved with it in terms of making changes and giving some advice here and there on interpretations. It was cool to write it and be hands off while I was hands on in a different show," Repich said.
With a wide range of topics that included awkward first dates, coping with death, sexualization of women, prejudice, stealing a painting and the question of what you are going to do with your life, the Ten Minute Play Festival and its nine plays circled the emotional wagon.
"I think it was really cool, it was like being directed by your peers and also us as freshmen will get to do this when we are seniors, so it is kind of like a glimpse into what we are going to have to do," cast member of "Empty" Gabrielle Reublin said. "But it was nice because it was a whole different take on what our traditional process is with working with the heads of the department."
The theatre capstone class went through and read nearly 150 10-minute plays scripts until they were able to dwindle them down to the nine they chose to direct. They officially started casting March 21 and within a few days the student directors had gone through and picked their cast members to star in their play.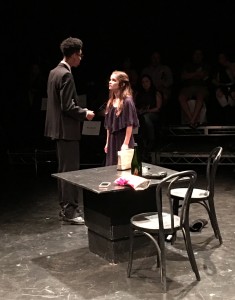 "We start with a read through with our actors. We kind of just read through it and talk about it, from there on we work on blocking, basically their movement of where they go on stage and a lot of it is just making sure that there is peaks and valleys so it's not all crazy the whole time or all somber, there is kind of a movement to it," Dybevik said.
Auditions were open to all Cal Lutheran students. One did not have to be in the department to audition, and the festival had some first-time actors and actresses.
"I love directing, I want to keep doing it forever. I have plans to keep directing in the future and this was a really fun experience. It sucks you can only do it when you are a senior because I wish I could have done it every single year," Repich said.
Dillon Brown
Staff Writer