Former Harlem Globetrotter Inspires Cal Lutheran
Former Harlem globetrotter Kevin "Special K" Daley never stopped smiling as he gave a motivational speech and made his way across the California Lutheran University basketball court.
According to the Harlem Globetrotters website, "The Harlem Globetrotters are a worldwide icon, synonymous with family entertainment and great basketball skills."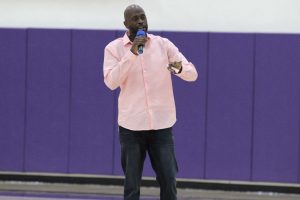 The event took place April 5 in the Gilbert Sports Arena, preceding the Cal Lutheran intramural all-star basketball game.
"Using Thumbtack, [Daley] actually reached out to me and said he loves speaking at college campuses and that Cal Lutheran is really close to his hometown and he'd love to visit," said Ashley Deslauriers, coordinator of transition and retention for Student Life
.
During his speech, Daley focused on challenges he overcame and his advice for students based off of what he has learned through his life experiences.
"It was really inspiring. He mentioned a lot of really important things that were very relevant to me as a graduating senior, like setting goals and writing them down," senior Kaylee Bosey said.
Daley shared many personal stories about his life and upbringing in order to tell how he got where he is today.
"You always have to work harder than the next person, not equally as hard, but harder," Daley said.
Daley said his favorite part about doing motivational speeches is when students and people in the audience ask him questions to make it more personal.
"It's a good feeling to be able to help others," Daley said.
Deslauriers said she hoped students would leave the event feeling confident and strong.
"My biggest goal was to have students think, 'OK this guy did it all so I can too,'" Deslauriers said.
Daley shared his tips for success, which included accepting change and getting past fear.
"I had forgotten about vision boards until [Daley] brought it up and he motivated me to actually make one with goals for my life after college," Bosey said.
Daley said he really wanted to be a positive influence, focus on having fun and inspire college students entering into their adult life to "discover the world in a new light."
"25 percent of what we do as Globetrotters is what you see on the court. We run positive events all over the world where you get to meet people and hear their stories, which made me realize I was a part of something much bigger than just a basketball team," Daley said.
Rebecca Austin 
Staff Writer