Hutton Field was the site of the two-game home series between Whitter College and the Regals of California Lutheran University April 8. The Regals ended the weekend with one win and one loss.
Game one was dominated by pitching until the top of the fourth inning when Whittier was able to load the bases after a series of bunts. A bases loaded single by Brianna Alvarez of Whittier was able to bring in one, and that was soon followed by a double to center field that drove in two more runs.
"They put the ball in play and made things happen. When they score runs we have to respond on offense and that's where we are struggling a little bit right now." Assistant Coach Erin Farley said.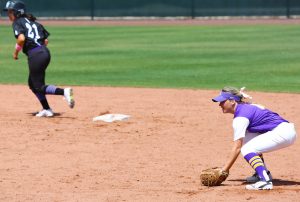 Whittier was able to add four more runs, as they had one in the top of the sixth and had another three-run inning in the seventh. This put game one all but out of reach with a score of 7-0. Whittier's pitcher Samantha Blum was able to keep the Regals quiet in game one as she went the full seven innings only allowing five hits and no earned runs.
"Our defense is solid, but we can't expect them to not let the other team score any runs whatsoever. We just need to hit more and put the ball in play," Farley said.
Game two saw the Poets pick up right where they left off. Sophomore Kacey Whitney hit a first-inning solo home run that gave the Poets a lead that they would later add onto in the third, which saw them jump to a 3-0 lead.
The Regals refused to bow out as they began their comeback in the bottom of the fifth with a double coming off the bat of junior first baseman Makenna Pellerin. Pellerin was later driven in off the bat of junior second baseman Mikaela Mayhew with a single into right.
Mayhew in the very next inning added two more RBIs to her name, one of which was the game winner after she doubled down the left field line. This gave the Regals their first lead of the day at 5-4.
"I was nervous, but at the same time I stuck to my game and I knew that we had a chance to do it," Mayhew said. "They were ranked above us. They had more wins than us, so it was important because we now have one more win and they have one more loss."
Freshman pitcher Brittany Workman came on in relief of fellow freshman pitcher Olivia Serrano after she pitched five strong innings. Workman, who was awarded the win, struck out three Poets batters and only allowed one hit in her 1.2 innings of action. The Regals were able to get the win in the second game of the day with a score of 5-4.
"You have to be able to hit pitches on all parts of the plate and we didn't do a good job of this in the first game. The beauty of the second game is we did hit that pitch, and then they brought back the first pitcher and we were able to hit off of her as well," Head Coach Debby Day said.
The Regals, who now have a 10-14 record with a 7-9 record in Southern California Intercollegiate Athletic Conference play, will return to action Friday, April 14 when they host Chapman University at Hutton field at 2 p.m. and 4 p.m.
"We are going to see very similar pitching with Chapman. We just have to keep plugging away, hitting every day and making sure that everyone stays focused," Day said.
Gabriel Naudin
Staff Writer