Monica Echeverri, a senior majoring in biology, is also known on campus for a different reason. She has an Instagram page called Meals by Monica which has over 350 followers, including students here at California Lutheran University.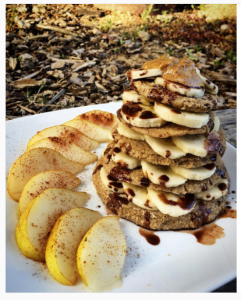 Echeverri's Instagram page, which has the description "Healing foods for healthy living," is devoted to food that Echeverri makes herself and shares the recipes to, all of which are healthy or made with wholesome ingredients.
"The reason why I started [Meals by Monica] was because I wanted to inspire people to start cooking more homemade food," Echeverri said. "When I started cooking food for myself, I wanted to learn more about the connection between the chicken on my plate and the chicken at the farm."
Echeverri said something else very important to her in regards to the actual cooking process is her connection to food, which is why she lists the ingredients and recipes on every post.
"To me, [the recipes and the ingredients are] so important," Echeverri said. "Like nowadays, we're so busy with our lives, we get caught up with work and school and other activities that we kind of tend to forget where our foods are coming from."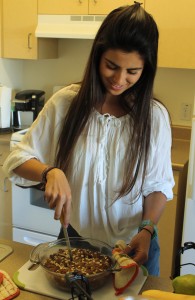 Echeverri's long-time friend and biology major Ana Sofia Campos said her favorite part of Echeverri's page was the inspiration it gave to her, to be both creative and healthy with her food consumption.
"I know I had that struggle [of eating healthy] before I saw [Echeverri's] Instagram, and her cooking and everything, I would just get frozen veggie patties or like premade foods [or] prepackaged foods," Campos said. "When I saw [Echeverri's] Instagram page, and saw her ingredients and how she made it, I realized that it is so simple to make."
Additionally, as Echeverri's roommate, Campos also said that she was able to taste the foods that Echeverri has made for posting on her Instagram page.
"[Echeverri] also lets me sample all of her goodies, which works because when I try something that I really like that she makes, which is like everything that she makes, she'll tell me the recipe or she'll teach me how to make it, and from there I get healthy food," Campos said.
Junior Rachel Lapp, an environmental science major who works at the SEEd garden with Echeverri, said that Echeverri's focus on nutrition, health and providing her body with nutrients, as well as sourcing foods sustainably to provide health for herself, was crucial in why she wanted to make the Instagram page.
"She likes to make everything from scratch, she likes to experiment, try new things, whole grains, whole foods, nothing that's processed, just trying to get down to a base level of what we should be eating, because we've gotten pretty far away from it," Lapp said.
Lapp also talked about the twofold purpose of Meals by Monica, for fun and also for health.
"I think a lot of college students who, you know, get off a meal plan for the first time don't know how to cook, maybe their parents didn't teach them. It's hard [when] I go to the grocery store, there's so many options, what do I buy?" Lapp said. "And what [Echeverri's] trying to do is kind of get people to recognize that it's not terribly hard to eat healthy, to eat cheaply and also to cook."
Another one of Echeverri's friends, senior pre-med biology major Jenna Miles, said that her favorite part about the Meals by Monica page was looking at the page and seeing what foods Echeverri came up with and posted on her page.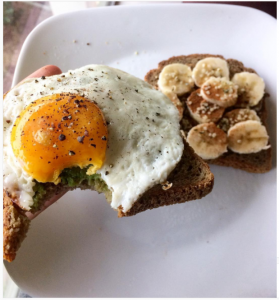 "I think because [Echeverri] grew a little bit of a following, she got more creative with designing how food looked and giving out more recipes so people could try it themselves," Miles said. "It's really interesting to see how [Echeverri's] developed in her food-making because I love looking at [the Instagram page] just to see what she's come up with."
Miles said that at times, Echeverri's Instagram page is a talking point amongst their circle of friends.
"For me, [Echeverri] one time posted something that she cooked, it was like a banana bread, and I had asked her about it and she actually brought me some," Miles said. "My roommates and I were saying how she was able to come up with something so healthy, but still taste so good."
Check out Echeverri's Instagram page for more posts and recipes.
Henry Studebaker
Staff Writer