Cal Lutheran Joins Spoon University
A new chapter of the international health and wellness publication opens up on campus.
Joining the California Lutheran University community of clubs and events this month is a new chapter of Spoon University, started by sophomores Olivia George and Jacie Fukada. They were looking to get more involved on campus.
"Spoon University is basically a food and wellness publication created for college students by college students," George said.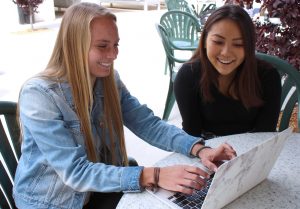 Fukada said she got the idea to bring Spoon University to campus after hearing her friends from other universities talk about it.
"It's supposed to be a really fun thing to do, not so much something to stress about, but mostly informing other students about what's available food wise and things about lifestyle and other college tips," Fukada said.
Like Tasty and BuzzFeed, Spoon University specializes in pictures, recipes and videos of healthy food as well as giving viewers lifestyle and wellness tips that they can bring into their own lives off the screen from one of over 200 chapters internationally based on college campuses.
"Spoon is very popular among other colleges and I thought about bringing it here to Cal Lutheran, and the application to do so was super easy, they give you different skills on cooking and everything," Fukada said.
While working on becoming an official club on campus, George and Fukada are also looking for new members to join their chapter of Spoon University to help create content and also those who would just like to get involved more on campus.
"We're just getting started but we've built a team of about 10 people and right now we're working on getting articles out. Our website just went live this past week and we've written a total of three articles. We want to keep building our team and writing more articles to help spread awareness about Spoon on campus," George said.
George and Fukada are now looking to add more writers, photographers, videographers and marketers to their team, or anyone who enjoys food.
"For our marketing team, we're planning on having more events on campus as well as off that have to do with food. Our writers will write articles and then pair up with a photographer to take pictures of the food for them. For the future, we're looking to publish more articles and get more publicity around campus so that people can join," Fukada said.
Sophomore and new member Kendra Salo said she is looking forward to the future of Spoon University on campus and is excited to be involved with the new chapter here at Cal Lutheran.
"I wanted to get more involved at Cal Lu and it seemed like a really fun idea. I'm a communication major and I wanted to practice writing and Spoon sounded like a really cool outlet to do that," Salo said. "I'm excited to see the club grow cause it's going to be a new club. It's going to be cool to see it grow from a small group of 10 to however many more people we can get to join."
Applications can be accessed online for students who are interested on the Spoon University website after looking under the Cal Lutheran page.
"It's not only for writers or communication majors, or even those who are interested in writing or communication, but it's for any college student or any college student who likes food in general," Fukada said.
Alexa Barnes
Staff Writer