Senior Christina Sharkey stepped outside class to take an unfamiliar call Feb. 14 and was met with what she says is the best Valentine's Day gift to date, acceptance to Ross University School of Medicine located in Dominica, an island country in the Caribbean. Sharkey is scheduled to begin medical school in the Caribbean in August 2017 following graduation in May.
"My mom cried that day when I told her I got into med school," Sharkey said. "Happy tears, of course, but it was kind of a dream of hers because she was an OB-GYN [in China], so it was almost like her getting into medical school again, too."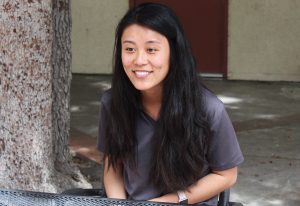 Sharkey made the transpacific journey from China to San Francisco, California when she was 12 years old. She began middle school in the United States as one of the only international students in the entire school, she said.
"I was basically thrown into speaking English… and learning the culture starting day one," Sharkey said. "But I think that's the reason I got the idea that I should work twice as hard as everyone else and be disciplined because, essentially, I had to catch up on 12 missed years in one semester just to understand what everyone meant."
Sharkey said she plans to be the eighth female doctor in her family, following seven generations of medical doctors on her mother's side. Sharkey hopes to be an OB-GYN for Doctors Without Borders, an international humanitarian non-governmental organization that delivers emergency medical aid to people affected by conflict, epidemics and disasters in war-torn and developing countries, according to the organization website.
Sharkey is majoring in biology and currently serves as the assistant director of the COPE Health Scholar Program at Simi Valley Hospital, a position that manages department coordinators who supervise various medical units within the program. Sharkey works under the direction of Osanna Tosunyan, the program manager who oversees the COPE Health Scholar Program at Simi Valley Hospital.
The Health Scholar program "is designed to provide a hands-on, educational patient care experience in a hospital environment for students and recent graduates who are interested in pursuing healthcare or those who are currently transitioning into a health care career," Tosunyan said.
"As an assistant director, she established a method of training new oncoming department coordinators where she put together presentations and agendas, as well as a three-month training plan for current health scholars to see assignments, due dates and resources [they] need to be successful in [their] role," Tosunyan said. "Whenever a new team member comes on board, she makes herself readily accessible to them and doesn't put herself before anyone else. That's a quality that I haven't seen in a lot of people, and I think that's refreshing to see."
Tosunyan said she helped guide Sharkey when looking at medical schools in the Caribbean, and told Sharkey to "know what you're focusing on and don't stray away from that."
Sharkey said the medical school application process began during her sophomore year at California Lutheran University. She said her three jobs, internship and extracurricular activities on top of classwork made the application process "a rollercoaster of emotions that was long and overwhelming."
Many times, Sharkey said she would call her dad crying and consider giving up her pursuit of the medical field entirely.
One of the four professors that wrote Sharkey a letter of recommendation for Ross University was associate professor of mathematics Michael Gagliardo. Gagliardo said Sharkey approached him with the request approximately one year prior to her acceptance to the university located in the Caribbean.
"She always seemed excited about the material we were learning [in Calculus II], and for non-majors that's not always the case," Gagliardo said. "It was clear she was always working hard, of course, but she understands what her understanding is. She recognizes what she doesn't know and isn't afraid of that, she's determined to figure it out."
Sharkey will leave for Ross University in August.
"I got a lot of rejection letters, but I just had to keep going. That was only the road leading up to this journey, and I'm absolutely looking forward to the future when I get to deliver that first baby," Sharkey said. "I can't even begin to think about what that emotional experience will be like."
Olivia Schouten
Staff Writer