CLU Alumna Natalie K Releases New Single
Recent California Lutheran University graduate Natalie Kalamdaryan, also known as Natalie K, has spent her first year out of college pursuing a full-time career in music.
"I've always been a singer-songwriter, and I've always kind of known that this was something I wanted to do for the rest of my life, so now that I am graduated I have no excuse and nothing else to focus on besides my music career," Kalamdaryan said.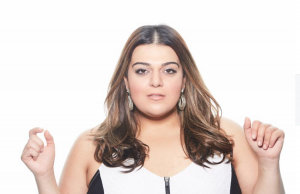 Kalamdaryan graduated from Cal Lutheran in May 2016 with a double major in music production and communication.
"My communication degree definitely helped me because I can write my own press releases and basically be my own publicist," Kalamdaryan said.
Kalamdaryan did all of her own press for her upcoming single "Man Up" out April 21. 
She said she is currently an unsigned artist. She is working on her own music as well as collaborating with other artists to release new material. She is playing shows and getting her name out there in the music industry.
"I just finished my summer residency at 626 Night Market and we had a huge turn out each time. It was a great show," Kalamdaryan said.
She said her goals are to become a signed touring artist and keep writing and singing in the future.
"Once she has her mind made up about something, she makes things happen," said Kalamdaryan's friend Andrea Teodorescu.
Her new single "Man Up" will be the first single she has released in five years.
"'Man up' is actually a song I wrote in my Freedom of Communication class during my last semester at CLU. It was while the professor was lecturing and I got this idea in my head and I literally ran out of class and recorded it into my phone," Kalamdaryan said.
Kalamdaryan worked with producer Tae Kim, also known as Juno Ray, on the single.
"The most important thing about Natalie is that she is so enthusiastic," said Ray, who has been working with Kalamdaryan since December. 
"She was very open to new ideas and I think we have a great song as a result," Ray said.
Kalamdaryan and Ray are continuing to collaborate on other music projects.
Her new single "Man Up" will be available to listen to on all digital platforms April 21.
Dakota Himmelman
Staff Writer