California Lutheran University men's tennis team served up a strong win against Southern California Intercollegiate Athletic Conference opponent Chapman University, defeating them 7-2 to complete the season at the Poulson Tennis Center.
"The team played great. This was one of those matches that kind of help define the season. We've had a couple of these other matches that were supposed to be close but didn't go our way and so this is one we were able to flip our way and pretty decisively, so we're very happy to get a 7-2 win against a current rival," Head Coach Mike Gennette said.
In doubles, junior Lucas Tilly and freshman Jake Haffner beat their opponents 8-2 to trigger the team's momentum.
Freshman Austin Wong and junior Andrew Tufenkian won their match with ease 8-3.
"I've been working a lot on my forehand. Coach Mike has done a really good job helping me with that. The past week or so it's felt really nice and definitely helped today. I was able to control the points more with it." Wong said.
Junior Dara Aryanpour Kashani and sophomore Ransom Braaten picked up the pace to win 8-4, giving the Violet and Gold a 3-0 lead going into singles play.
"I think we did great with doubles especially. We came off right away very aggressive and we basically took it to them especially at two and three [doubles] they got done very quickly," Aryanpour Kashani said.
Cal Lutheran continued to dominate April 22 as Wong won both of his singles sets 6-1, 6-4, showing a glimpse of a bright future for the freshman.
"Austin Wong is coming up and playing in the lineup now and winning matches so it's been great to see. He's built his game up so quickly and is now helping us out," Gennette said.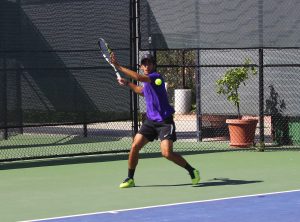 Braaten's match sealed the deal for the Kingsmen as he took care of business with a 6-1, 6-3 win in his return from injury.
Sophomore Mike Sulahian had the team's lone bagel, a term used to describe a dominant display from a player to not give up a single game in a set, as he won 6-4, 6-0.
Kashani had an incredible comeback as he lost the first set 4-6, but rallied back to win the second set 6-2 and closed it out 10-7 against his rival.
"My win was pretty good. This player I lost to last year, but last year I was injured and I wasn't fit enough to play. It was a good win, got my revenge on him, tried to stay aggressive the whole match and execute my plan," Aryanpour Kashani said.
Haffner took advantage early during the match as he claimed control of the sets 6-4, 6-3. Tilly barely lost 3-6, 6-4, 8-10 in the last match of the day with a tiebreak that could have gone either way.
"Singles again, everybody, especially the bottom guys, they really stepped it up and got some good wins and we clinched pretty early and especially me, I played a little bit more relaxed when we clinched so that was good and I got the win. I'm happy about that," Aryanpour Kashani said.
Cal Lutheran will keep the same talent for next year since they are not graduating any seniors on the roster.
"I'm really excited about the team next season. We don't graduate anyone, so we can only get new players and even throughout this season we've improved tremendously from our first match. It's really exciting, so I'm looking forward to it," Wong said.
The Kingsmen finished the regular season (6-16, 2-5 SCIAC), and the Ojai tournament is April 28-30. SCIAC championships start Friday, May 5 and conclude Sunday, May 7.
"We still have two more big tournaments. The Ojai tournament is very important for me and Ransom to finish the season on high. Next season, everybody is supposed to work really hard this summer and next fall and we are going to add a few guys to our team and hopefully will be very strong next year," Aryanpour Kashani said.
Matthew Weisman
Staff Writer