Regals Split the Weekend, Hold onto Fourth Place
The Regals of the California Lutheran University softball team were in for a tough couple of days as they took on both University of La Verne at home and Occidental College away in two double headers Friday April 21 and Saturday April 22.
Game one on Friday was dominated by La Verne as the Regals couldn't keep the Leopards from putting the ball into play.
"They were able to find some holes" Head Coach Debby Day said. "I think the opposite. I think Courtney [Sooy, senior pitcher] threw a great game, I think Abby [Howard, junior catcher] called a great game and I don't really feel like there's anything defensively we need to switch up right now."
La Verne totaled 13 hits in game one, three of which came in the first inning that allowed them to jump to an early 2-0 lead. They were able to tack on more in the top of the seventh, making it 4-0 Leopards.
"There are some technical things we're going to work on, but we just need to get back to staying a little more relaxed at the plate and swinging like we mean it," Day said. "Hitting is arguably one of the hardest things to do in sports so we just need to keep plugging away."
Game two was a whole different story for the Regals. After two innings, both teams were level at 1-1 and that score would soon change in the bottom of the third after junior third baseman Olivia Leyva singled up the middle bringing in junior center fielder Jacy Watanabe.
Then came the bottom of the fourth where the Regals would light up the scoreboard after a combination of good hitting and La Verne mistakes, allowing them to add four runs to their lead taking it to 6-1.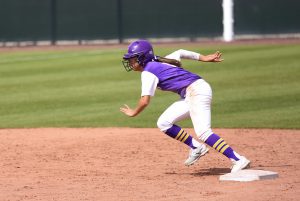 Howard started the offensive onslaught after she doubled to right and was later brought in by freshman outfielder Catherine Slabaugh's single.
"Whenever one of our teammates gets a hit we are right behind them. Every hit they get the next person says I am going to get a hit now too and it's just really contagious and I think that's a key to our success," Leyva said.
The Regals continued their scoring in the bottom of the sixth after Slabaugh singled to right, which brought in junior second basemen Mikaela Mayhew, who doubled to start the inning. The game came to an end after Leyva stepped up and hit a walk-off home run to deep center, bringing the score to 9-1 and getting the Regals their first win against La Verne of the season.
"We knew that they were the number one team and we had been close with them before, so we knew that this could happen and it did," Howard said.
The Regals registered 12 hits in the game and made the Leopards go through four different pitchers.
"Everyone has been really good at hitting. I feel like that was a weakness for us at the beginning of the year. We are starting to peak right at the right time." Leyva said.
The next day the Regals traveled to Occidental to play in a two-game series against the Tigers.
Game one favored the Tigers. The Regals were able to get on the board first as senior outfielder Amanda Lewis scored an unearned run, but the Tigers answered as they put four runs on the score sheet in the bottom of the fourth giving the Tigers a game one win with a score of 4-1.
Game two was much different as the Regals came out to play and weren't going to be denied.
The Regals scored first again off an unearned run as a result of a Tiger error in the top of the third. The top of the fifth is when the bats came out as the Regals added three more runs to their lead, taking it to 4-0.
It started with Watanabe singling and advancing to second after a bunt from junior short stop Antonia Rapisardi. Leyva came up and tripled to center bringing in both runners and coming home after Lewis hit a sac-fly.
Both teams added one more run in the sixth, but game two went in favor of the Regals and gave them one win in both series.
Freshman pitcher Olivia Serrano got her fifth win of the season and it brought the Regals record to 14-16 and got them to .500 within SCIAC play with an 11-11 record.
Next weekend the Regals will have four games.
They will start by traveling to Claremont-Mudd-Scripps Friday April 28 and then returning home to play Pomona-Pitzer Saturday April 29 for their Senior Day, in hopes of adding four more wins to their record.
Gabriel Naudin
Staff Writer