Pappas and Jones, CLU's Scholar Athletes of the Year
The California Lutheran University Athletic Policy Committee awarded senior javelin thrower Cody Jones, from the track and field team, and senior outside hitter Sarah Pappas, from the women's volleyball team, with Scholar Athletes of the Year. This is one of the highest honors one can achieve as a student athlete at Cal Lutheran.
The men and women's Scholar Athlete award is voted on by the Athletic Policy Committee, which this year has seven members, including five faculty members and two representatives from the Athletic Department.
"First we get a list of everyone who is eligible, with a 3.5 GPA or above. Once we get this list we ask the coaches for their input and then the list is narrowed down to around 10 people, five male student athletes and five female student athletes," said Bruce Gillies, the chair of the Athletic Policy Committee and professor of Business Management. "Then the committee sits and debates over who they want to nominate and interview. We ask these nominees for an essay, a letter from a professor of theirs, and a letter from their coach."
The award itself is given to student athletes who have shown the ability to hold an outstanding GPA, excel in their prospective sports and have proven to be leaders in the community.
"We looked at Sarah's from a perspective of leadership and the letter from her coach, then also the difficulty of the degree program and her ability to maintain a really high GPA in that program. Sarah is just clearly a cut above all the other athletes that we had looked at," Gillies said.
Pappas has shown the ability to overcome obstacles, while in her freshmen year she blew out her ankle and was sidelined for most of the season. She came back and was able to lead her team to a National Championship victory and played a vital role in that season.
"I just can't say enough about her, I'm trying to pretend she is not graduating, because selfishly I just want to keep her around forever. She's going to be really hard to replace, I absolutely adore that kid," Head women's volleyball Coach Kellee Roesel said.
Cal Lutheran was the last stop of schools that Pappas looked at before deciding to become a Regal and wear the purple and gold. She said she liked that she would be able to continue to play the sport she loved as well as focus on her academics and a degree in exercise science.
"It was such an honor to be nominated in the first place and to win, I was super excited, it is really cool to be recognized for all the hard work and I think that's what DIII athletics is about, putting in the work in classroom and on the court, so it is awesome to be acknowledged for that," Pappas said.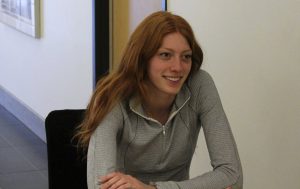 Over her time at Cal Lutheran, Pappas has pushed herself to be better and has been recognized from coaches and teammates as a strong emotional leader who has received many honors during her time at the university.
"Foremost, Sarah is a competitor, whether it is on the court or in the classroom, she will do whatever is needed to be successful. She is among the most driven, committed and passionate student-athletes with whom I had the pleasure to work. Indeed, she is the epitome of what CLU athletics represent," Assistant Director of Athletics for Performance Patrick Holmberg said in an email interview. "In addition to her high academic standing, she earned American Volleyball Coaches Association All-American, All-West Region and All-Conference honors three times. During her four years, the Regals won four Southern California Intercollegiate Athletic Conference titles, two West Region Championships and a National Championship."
In the future, Pappas may be done with competitive volleyball but she is hoping to get into a nursing program upon graduation.
"I really liked the idea of the exercise science program, it was initially volleyball and then the academics closed the deal," Pappas said. "Between athletics and academics I've learned how to manage my time and how to cope with stress, just very good skills I can use in life and in my future career."
Although this journey for Pappas will be coming to an end as she is set to graduate in May, she will continue to look back on her time here at Cal Lutheran.
Jones, four-year javelin thrower of the Cal Lutheran track and field team has been awarded the Men's Scholar Athlete of the Year.
"Becoming a scholar athlete starts in the classroom, paying attention, going to classes even with practice and sports and everything, and then putting the work in outside of class as you would sports," Jones said.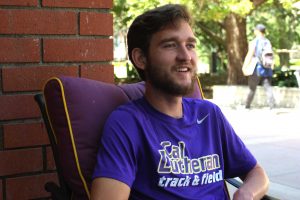 Matt Lea, head coach of the men and women's track and field and cross country teams at Cal Lutheran, first met Jones five years ago when he was in high school at Simi Valley. Even though Jones was new to track and field, Lea had no hesitation at all of allowing Jones on the team to train and compete.
"He works extremely hard each and every day in practice to better himself so that he is completely ready for his meets and competitions. He takes everything very seriously and when he is out on the field he is focused and ready to go," Lea said.
Cathy Sellers, Director of U.S. Paralympic Track and Field, approached Jones in high school when he played baseball with cerebral palsy and she thought he would make an excellent thrower.
One of the highlights of Jones' athletic career is that he got to  compete in the 2016 Rio De Janeiro Paralympics in Brazil.
Jones' teammate senior sprinter Chris Aguilar said that Jones deserves to be Scholar Athlete of the Year because he is dedicated, goal-oriented and great at the javelin.
"He does an excellent job of balancing schoolwork, social life, leadership roles and family. Cody is an example of someone who got rewarded for the hard work they put into their craft," Aguilar said in an email interview.
Gillies said that Jones was chosen for the award because he was the one who clearly rose above everyone else as far as having the total package of a scholar athlete.
"It's such an honor to win this award, especially looking at all the other people who are more than well-qualified to be scholar athletes," Jones said. "What motivates and drives me to being a scholar athlete is that I want to strive for success and be the best for myself and other people."
Dillon Brown
and
David Brown
Staff Writers