A musical showcase: CalLuPalooza
On Saturday, April 22, the annual CalLuPalooza concert featured California Lutheran University artists at Kingsmen park.
The lineup included Sharp Attack, Michaela Kennedy, Nicole Campbell, Cole Tidus, A.J. Akpodiete, No Suits, Sad Boys, Roemello, Tyler Lucas, Cris Lou and HYPNTC.
A.J. Akpodiete got the crowd invested with his rap performance which ended with freestyle dancing on the stage.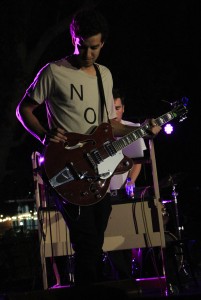 Junior Michaela Kennedy performed three covers and one original song during her set. Her songs included "Sugar" by Maren Morris, "Peter Pan" by Kelsea Ballerini, "Love on the Brain" by Rihanna and her own song "Just Enough." Her single "Just Enough" is her first original song since elementary school.
"I titled the song 'Just Enough' because it talks about someone giving you just enough of their attention and love to keep you coming back for more," Michaela Kennedy said. "Basically, the chase is more of an excitement for both people than actually the substance of the relationship and connection."
Michaela Kennedy plans to release "Just Enough" on her YouTube channel once she's written more and worked on it in the studio.
"I love it so much. I've been singing since I was little. My main focus is school right now so balancing both is what I've been trying to do," Michaela Kennedy said. "I got back into singing and performing about two months ago so it's been really fun."
A stand-out performance by the band No Suits had the crowd singing along as they played their new EP "Queen" featuring singer Jackii Kennedy.
During Jackii Kennedy's performance of "Queens" No Suits member Max Pierro jumped off the stage and crowd surfed. Pierro was returned back to the stage to finish the set.
"I was just feeling the energy of the crowd," Pierro said. "Reed was soloing, the crowd was chanting. You gotta give it up for [the MC] T-low."
Jackii Kennedy sang the single, which will be featured on the band's upcoming album.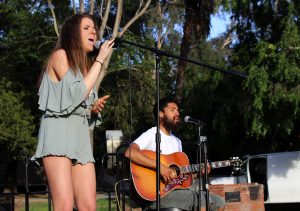 Jackii Kennedy met the members of No Suits in Santa Monica and became one of their singers, drummer and Cal Lutheran alumnus Edward Hill said.
The band includes Jackii Kennedy, Hill, sophomore Aubrey Elaine, seniors guitarist Reed Hallums, Pierro on keyboard, Sajan Sanghve on piano and guitar and trumpet player Dan Dwyer.
Dwyer's trumpet skills were revealed when he played a piece of "Mask Off" while the band was warming up. Elaine started off the set with the song "Escape Reality," which is the band's first original song.
"We were first recording 'Escape Reality' and we knew that there was something missing," Pierro said. "We knew that [Reed] was a badass guitarist and in less than five minutes he riffs the beat melody."
Pierro said that the band practiced very hard all week in anticipation for the concert. He said he's known band member Sanghve since kindergarten, and they've been making music since high school.
"One of the first things that Max told me was that we have to be entrepreneurs and never wear suits to work," Sanghve said. "We live our lives by the 'No Suits' philosophy which is like doing things a little bit different, doing things outside the genre and not conforming."
Hill said that he joined the band two years ago while he was still attending Cal Lutheran for his degrees in communication and music.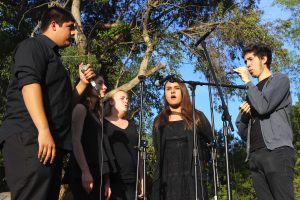 "Last year, we put out our first track. It popped off and in less than a month we had 80,000 plays," Hill said. "CalLuPalooza was our first live performance and we hope to do more this summer."
The band plans to continue releasing EPs for their album. Their music can be found on Spotify, SoundCloud and Apple music.
Brandy Alonzo-Mayland
Staff Writer