PRIDE Drag Show: Building Community
The Associated Students of California Lutheran University Government continued their Campus Support series with the annual PRIDE (People Respecting Individuality, Diversity, and Equality) club Drag Show.
Led by current President and ASCLUG senior senate representative Michelle Cerami, the club has been at Cal Lutheran for over 15 years. The drag show itself has been around for about seven years, Cerami said.
"There's so much that I enjoy about [PRIDE], it's one of the highlights of my week," Joey Whiteford said.
Whiteford works as the PRIDE vice president as well as an ASCLUG Senate senior representative, and performed in the drag show.
"We discuss and explore so much, and try to bring light and awareness to [LGBT] groups. We're building a community, and it's always a good time," Whiteford said.
To help them out, PRIDE club paired with ASCLUG as part of their Campus Support series, which works to seek out groups or clubs on campus to help aid them in events and activities.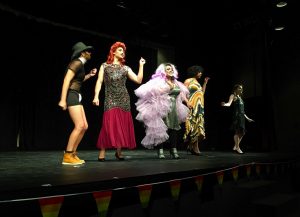 "I was actually approached by the PRIDE members, they asked if I would be willing to support them in the drag show," said Victoria Lahney, ASCLUG junior Programs Board representative. "They were really looking to make it bigger and better, and we saw this as a great chance to collaborate and build it up as much as we can. And this gave us a great opportunity to show that ASCLUG supports PRIDE and everything they do."
In preparation for the show, there were auditions and practices. ASCLUG and PRIDE worked to get technical supplies like lighting and costume figured out, as well as buying Sprinkles cupcakes for the first 100 audience members.
"I think I'm most looking forward for the audience to see it," Cerami said. "I'm excited for the visibility, and to learn more about what drag is, as well as appreciate all the hard work that goes into putting it on."
"I'm excited for it, there's a lot of movement," Whiteford said about his act. "I'm channeling the swing era a bit in my performance. Then there's some more dance type, some more classical. There's a lot of variety. There's no real theme. It's all over the place, but it's a lot of fun."
The show was held Friday, April 21 in the Preus-Brandt Forum. To begin, host Christopher Vazquez, who introduced himself as 'Mamma Jamma,' joked around with the audience before bringing out the first act.
The performers, three drag queens and one king, took on alter egos with the names of Demi Bravato, Ambrosius, Ebony Ivory, and CJ Comelongly and lip synced solos and duets. Songs varied in style, from Whitney Houston's "I Wanna Dance With Somebody" to Blink 182's "All the Small Things."
"I thought it was amazing, I was so proud, it takes a lot of courage to get up there, and I'm really glad they did it," senior Mindi Carpenter said.
"I loved it, and I thought it was cool how supportive the audience was," senior Allie Yannetti said. "Plus the host was awesome."
Overall, the audience was cheering and singing along, and some volunteered to get up on stage and strut in a makeshift cat walk. Winners of a raffle and the cat walk competition won Spring Formal tickets.
"I think that this gets [PRIDE club] out in the limelight, and lets people know that we're around," Whiteford said. "The more we get involved, and the more events we put on, at least people will know that we're there."
"If you're interested in coming to PRIDE club, just come," Cerami said. "You don't have to be a specific type of person. You can be an ally looking to know more, you can be a first year, you can be a really involved senior who just wants to come. All are welcome at the table."
Emily Graybill
Staff Writer