A Peek Into Cal Lutheran's Herpetology Room
Herpetology students at California Lutheran University study reptiles in a special lab dedicated to snakes and lizards, located in the Ahmanson Science Center.
Kris Karsten, an assistant professor of biology at Cal Lutheran, is in charge of the research lab that currently holds about 15 snakes and the occasional lizard.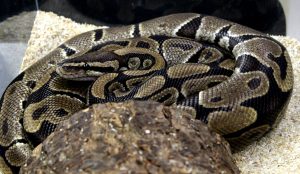 "It's a research lab with a few snake enclosures. The main function of the room is a place where I collect data on my own research, but I had the space to house the snakes and I like them, so that's how it all came about," Karsten said in an email interview.
The snakes are permanent to the room, while lizards are only kept in the lab when students are able to catch, tag and release them for study purposes.
Karsten studies herpetology, which is the branch of zoology concerned with reptiles and amphibians, according to Merriam-Webster Dictionary.
Karsten teaches a herpetology course on campus, though his specialization is in lizards.
"I study lizards for my own research, not snakes, but I like all reptiles in general. When I was an undergraduate student I went on a field ecology course and one of my classmates caught a bunch of snakes and lizards. I became fascinated with reptiles on that trip," Karsten said.
Cal Lutheran's Head men's volleyball Coach Kevin Judd is the actual owner of the snake collection.
Judd said that the snakes are fed thawed frozen mice and rats.
Judd, who was a science teacher for 14 years before becoming a full-time coach at Cal Lutheran, said he taught a zoology course at Crespi High School where he introduced students to all sorts of animals and reptiles.
"When I began teaching in 2001, my collection of snakes began to serve a purpose by teaching students about the different types, designs and adaptations of snakes. Over the years the collection grew to about 40 snakes. When I made the decision to come over here to CLU full time, I needed to figure out what to do with them," Judd said.
"I remembered seeing something in the directory of faculty in a course description that Dr. Karsten taught this herpetology course. I reached out to him to see what his thoughts would be about housing my collection of snakes in his lab," Judd said.
Karsten said he and Judd made an agreement about two years ago to hold the snakes in the lab, though Judd is still the primary caretaker of the snakes.
"He is really the person who is in charge of their care—as they are his snakes—but we also have students who come in and volunteer help as well," Karsten said.
Karsten said he has used the snakes for educational demonstrations as well as some lighthearted and fun presentations with a few of his students at the Early Childhood Center.
"My herpetology students always likes to have them around so that they can see some of the species that we will catch on our field trips," Karsten said.
Judd said that a few students from Karten's herpetology class have been through some training with him to learn the proper care and handling of the reptiles.
Judd also said he has brought the snakes out of the lab on occasion for demonstrations.
"The most interesting times that the snakes leave the lab is when I use them as props or challenges for some of my team-building ideas with the volleyball teams," Judd said.
Rebecca Austin
Staff Writer
Taylor Rowlands
Features Editor