New Venture Competition Features Five Student Startups
April 27, from 4 to 7 p.m., the New Venture Competition Finals were hosted in the Lundring Events Center inside Gilbert Sports and Fitness Center at California Lutheran University.
The New Venture Competition originally started out with 67 students, and then five teams of students made it to the finals.
These teams were five different startups that were presented in the finals. ChorStor, an app for parents and children to manage chores; HypoxAware, a system for alerting pilots to health risks; Solefit, a pressure sensing insole for preventing foot injuries; Startup Kids, which teaches entrepreneurship to elementary school kids; and Weave, a new social network app for millenials.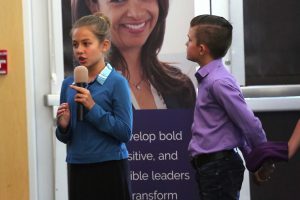 After the teams presented their products, judges Arman Amrani, Ned Davis, Chris Herbert and Jerry Knotts deliberated and voted on the teams' ideas.
Coming in first place was the team of Austin Janik, Joshua Janik and Dominic Lunde for Weave, and they won $3000. Second place was awarded to the team of Ryan Gibson and Tyler Gross for Hypox Aware and they won $1500.
"This was our first venture competition and it's been a lot of fun and a lot of work, but it's really rewarding to see everything come together," said first place winner Austin Janik. "I think the ability to take social media and turn the concept on its head, instead of isolating people behind a screen and bringing people together is what was appealing about our presentation."
"I think that the magic in our presentation definitely helped communicate the idea about helping people connect together was beneficial to us winning," said Joshua Janik.
Mike Panesis, executive director of the Center of Entrepreneurship at Cal Lutheran, spoke about the goal of the New Venture Competition.
"The NVC gives students an opportunity to pitch their startup ideas to a panel of experienced entrepreneurs and investors, in front of an audience. The projects come from projects in our entrepreneurship courses, the entrepreneurship club, and ideas that students have been working on themselves," said Panesis in an email interview.
Panesis explained that the teams are judged on the following criteria: opportunity, business model, evidence and the team having an understanding of the skills needed to launch the startup.
"I think it feels awesome to win second place. We put a lot of work into this project and I'm really happy with how much I have grown through the experience," said second place winner Tyler Gross.
The HypoxAware product makes flights safer for pilots and passengers by alerting pilots of medical conditions that they might suffer from when they go into high altitudes.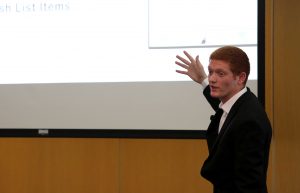 "I think it appealed to the judges because they saw there was kind of a life-threatening situation and my product is associated with solving it," Gross said.
Coming in third place was Jake Gould and Evan Brandt for ChorStor, winning $1000 as well as $500 for the People's Choice Award. In fourth place and winning $500 was the team of Dariush Afpfelthaler, Tyler Lucas, Zujaja Tehreem, and Nathaniel Thompson for Solefit. Finally, coming in fifth place was Mackenzie Hiatt, Molly Strawn, Sam Hott and Bhushan Parulekar and they also won $500.
Before these five teams presented their projects, three members from StartUp Kids at Westlake Elementary, Grace Keatts, Marissa Margolis, and Kaden Youmans, gave a short pitch for their business idea of "Want it Warm" microwavable clothing and accessories meant to keep customers warm outdoors.
David Brown
Staff Writer