Spring Formal Sells Out
Approximately 1,000 California Lutheran University students and guests attended Spring Formal at the Hummingbird Nest Ranch in Santa Susana, California April 28 from 8 p.m. – 12 a.m.
The event was coordinated by the Associated Students of California Lutheran University (ASCLU) Programs Board. According to the March Programs Board budget published online, Spring Formal was allocated a budget of $30,000. An estimated total of $39,261.08 was spent.
The cost estimates were provided by Programs Board Director Andres Elvira in an email interview.
Elvira said because of "last-minute order changes, adding another shuttle and staff food orders," a complete list of costs was not yet available prior to the publishing time of this article.
Tickets to the event were $5 and students could choose to pay an additional $5 for valet parking. First-Year Representative and Chair of logistics committee Mariela Gutierrez said 150 valet spots were available for purchase.
From these sales, an additional $5,750 was raised.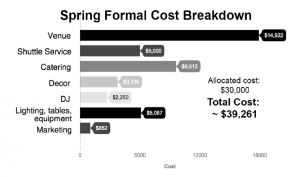 "I think our main reason for having students pay was so we knew that people were committed, and we weren't just wasting so much money on valet spots that weren't going to be taken up," Gutierrez said.
Gutierrez also said the ticket sales would be used to cover the shuttle costs.
On the night prior to the event at 9:09 p.m., ASCLUG announced on social media that tickets had sold out. Elvira later said in an email interview that the valet spots were also sold out.
Junior Representative Victoria Lahney, chair of the decorations committee, said the number of tickets was all that could be accommodated with staff and shuttle services.
Sophomore Amanda Oyao was one of the students unable to purchase a ticket after they had sold out. On Facebook, students were told to contact Elvira in order to have the names on tickets transferred if they bought an already-purchased ticket from another student.
"I'm like posting on Snapchat, Facebook and Instagram, texting all of my friends trying to see who doesn't need their ticket, and getting nos from everyone," Oyao said.
Oyao said her friend, sophomore Matthew Trujillo, contacted her before Formal saying he had found a way for her to attend. He drove her to the venue and, upon arrival, said he was not going, but had transferred his ticket to her.
The event was also planned to be entirely outdoors, but Elvira said that due to 25 mph wind, was relocated inside to the Main Barn.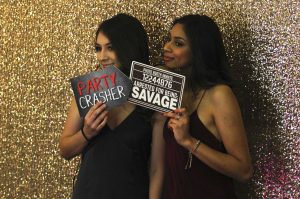 The building was divided into separate sections. The wing to the left of the entrance had standing cocktail tables, two photo booths and the caricature artist. The dance floor was in the middle section directly in front of the entrance, and the wing to the right featured approximately 60 dining tables and food.
Gutierrez said she was able to do a walk-through of Hummingbird Ranch when they were deciding on the venue.
"I just liked how open it was and the scenic view itself because obviously we want a night to remember and something that's going to be worth the students' money. We want to give them the best obviously because we're all paying for it," Gutierrez said.
Appetizers included mini sandwiches provided by Joan's On Third, and ice cream push-pops from Bluebird Ice Creamery.
Oyao said this was a great event for people who like dancing, and that the venue was very pretty on the outside, but that students complained of it being "pretty ugly" on the inside.
The theme for the event was "Happily Ever After," which was determined by vote in Programs Board, Lahney said.
Centerpieces on the tables reflected different princesses, such as a carriage for Cinderella paired with a blue table runner.
"We bought a whole bunch of stuff on Amazon and then we kind of DIY-ed it ourselves," Lahney said.
They also decorated with a life-sized storybook, which Lahney said was made from a donated mattress box covered in coffee-stained construction paper.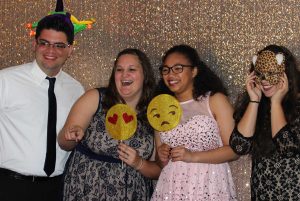 The first arrivals started the event with eating, taking photos and getting in line for the caricature artist. People did not begin dancing on the dance floor until approximately 9 p.m.
Music for the event was done by DJ Chase and DJ Stereo Thief, who are part of the company Vox DJs.
Students on ASCLUG working the event began taking down decorations and the photo booths at approximately 11 p.m. The music stopped at 11:45 p.m. and the dance floor was cleared. 
People had begun waiting in line for the shuttles departing back to Cal Lutheran at approximately 11:00 p.m., and the first to transport students back to the university at the end of the event left around 11:50 p.m.
Elvira said five shuttles were provided, and the final one departed no later than 12:30 to 12:40 a.m.
Spring Formal takes place every other year, and previously took place at the Ronald Reagan Library.
Dakota Allen
Staff Writer