New College Dean Seeks To Empower Diversity
As a first-generation college student, Jessica L. Lavariega Monforti sat in her research methods course at Florida State University. More math? This could be bad. She planned to be a lawyer, and no one was about to convince her otherwise. But a requirement is a requirement, and research methods is part of the process. If being a lawyer means taking this class, then so be it.
It didn't take much time for her to discover that research and statistics was more than graphs and averages. It meant learning the language of numbers in order to gain knowledge, and using that information to enact new policies and principles that would affect the world.
Then she knew that research was it.
Lavariega Monforti kept this love for research and her strong ethnic identity. After earning her Bachelor of Arts in political science, Lavariega Monforti went on to earn a master's degree and doctorate in Political Science from Ohio State University.
"I actually started out studying gender," Lavariega Monforti said. "As a woman I was like, 'of course I need to figure out where is my place as a woman in all of this.' But as this other stuff started to unfold, ethnic identity became important, people's sense of place became important, their sense of American identity became important and how those kind of experiences when they're passed down impact our worldview our ideology whether we vote or not."
Lavariega Monforti has arrived at California Lutheran University as the dean of arts and sciences.
With a lengthy list of research that includes subjects such as Deferred Action for Childhood Arrivals (DACA) recipients, Latino/a  youth, and the effects of ethnic background on political and cultural worldviews, Lavariega Monforti plans to work with the growing diversity of Cal Lutheran's population.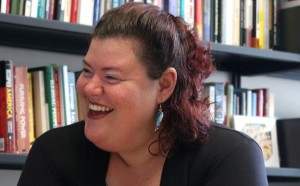 "The things that I'm talking about—the policies I'm talking about—are helping to produce adults who are making decisions for their future. For me it's all part of the same thing. I write about DACA because those could be my kids. I write about issues in politics because I have three girls. I do the work that I do because I want to be a role model for my kids."
Lavariega Monforti traveled beyond New York City, moving more than eight times throughout her life. From taking part in quantitative analysis training in Michigan to working as a professor in Texas, Monforti has held many hats throughout her career.
"I think that she [Lavariega Monforti] gets it," said Margaret Graham, Lavariega Monforti's colleage for half a decade. "She understands what it is to be an undergrad. She understands what it might be to be a first generation college student. So I think students love her, and I expect that even though she will have a different role now, she will always have students and faculty in mind in everything she does."
Knowing that her work is important and impactful motivates makes her new position as dean worthwhile.
"[Lavariega Monforti] is driven, passionate. I think she gets things done," said Adam McGlynn.
He worked with Lavariega Monforti at the University of Texas Pan American and continues to do research with her today.
"When I think of her, I think of the old saying, 'anything worth doing is worth doing well.' Anything she chooses to undertake, she puts everything she has into it and wants it to be successful."
"You're lucky to have her," Graham said. "The whole institution is."
Rachael Balcom
Reporter