New Female Deputy Title IX Coordinator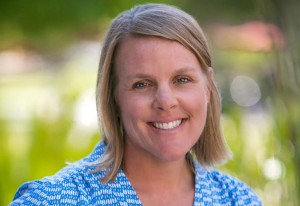 California Lutheran University's Director of Residence Life and Student Conduct Chris Paul was effectively made the new deputy Title IX director in July 2017. This title is the newest addition to the roster of Cal Lutheran staff that currently serve on the Title IX Committee, and will work closely with Title IX Coordinator Jim McHugh.
Title IX is officially known as a law that is part of the Education Amendments Act of 1972. The law states "no person in the United States shall, on the basis of sex, be excluded from participation in, be denied the benefits of, or be subjected to discrimination under any educational program or activity receiving Federal financial assistance," according to the U.S. Department of Education. The law reached its 45th anniversary in June 2017.
"I work very closely with the Title IX Coordinator to address potential Title IX policy violations, work with advocates and investigators, as well as assist with anything that the Title IX Coordinator needs," Paul said in an email interview. "This was a decision made by the university in an effort to provide even more support for our students than we already do."
McHugh said the position was discussed at the beginning of summer in 2017 coordinated with university leadership. He said there was no consideration of an outside candidate for the position of Deputy Coordinator.
Paul said the creation of the deputy Title IX coordinator role was a formalization of the work she has already been doing in conjunction with McHugh. The position allows for the university to have "yet another person for students to speak with about sexual misconduct," Paul said.
New students were notified of the addition of a deputy Title IX coordinator at student orientation in August, according to Paul.  It is unclear if the 'new students' included both incoming and transfer students.
"There was no formal student body wide announcement," and information about the change is "on the Title IX website and is mentioned at every Title IX training that is conducted," McHugh said in an email interview.
The addition of a female Deputy Title IX Coordinator places Cal Lutheran amongst Southern California universities with more than one coordinator overseeing and upholding Title IX policy, such as Pepperdine University in Malibu and Azusa Pacific University in Azusa.
"Having a male and female overseeing Title IX is good for students to see, since both males and females can be victims of sexual misconduct. Chris Paul's experience and current involvement with Title IX made her the natural choice for the deputy position," McHugh said. "Having multiple avenues for reports to come in is not a bad thing."
In separate email interviews, Paul and McHugh said the new addition will not change the procedure by which Title IX investigations are followed, as outlined under the Title IX section of the university website.
"Jim [McHugh] and I, along with the investigator, are in close communication about the investigation and how it is proceeding. I answer questions from investigators during the process and guide them on writing reports and following the process," Paul said.
According to Haco Hoang, a political science professor, public discourse about Title IX on college and university campuses did not always include cases of sexual misconduct.
"It's changed, because up until roughly 2011 when I taught my 'Women and Politics' class, we talked about it in terms of higher education in general," Hoang said. "Since then, it's being applied to sexual assault and misconduct on campuses, and that wasn't the original intent [of the law]."
Hoang said Title IX was created to address the gap between the ratio of men and women attending institutions of higher learning, and to provide a general  framework for addressing gender inequality on campus. She said universities' initial emphasis on athletics blurred the policy's original intent.
Hoang said she thinks Title IX was more recently applied to sexual assault and misconduct on campuses because "in the absence of a policy at the federal level, this was almost the stopgap measure." Title IX, as it relates to sexual misconduct, is an overall uneasy fit because it's like "trying to shoehorn in a policy that wasn't intended for this type of behavior," Hoang said.
Additionally, she said because the university has a faculty-student advising model, it places faculty in a difficult position to be a mandated reporter.
Hoang said, "There's a certain type of relationship we cultivate with students, especially at Cal Lutheran, and mandatory reporting can change that, sometimes to the detriment of students. They might not feel comfortable talking to us about things."
Hoang said she could not overemphasize the need for Cal Lutheran to explore having external investigators and adjudicators in Title IX investigations to avoid any conflict of interest.
Like Paul, McHugh also works in roles at the university outside of Title IX, as he is the associate vice president for Athletic Affairs.
"I think the appearance of a conflict of interest is enough to pour in resources. No meaningful sexual misconduct policy can  exist without the support structure and I think Cal Lutheran, like most other universities, has adequate resources to go into it," Hoang said. "Sexual assault and misconduct on campus has to be a stand alone issue. An add-on to someone's job is not giving the problem the attention that it deserves because it overburdens the person doing it."
Olivia Schouten
Reporter