Exploring The New Art Building On Campus
The William Rolland Art Center is now open for students and professors to use this fall semester.
While walking along the outside of the building, one will see each side's walkway covered with yellow flowers.
Beyond the sliding doors of this new building, one will walk past clean walls, chairs that are so new they provide no indication of depression or sagging from use over time and new rooms with new technologies.
This contrasts from the classrooms that art classes were taught in before the rise of this building.
"A lot of the times in my classes, I would get too distracted or it would be too cramped for me and I'd want to get out of there for a break and I couldn't wait for a break, but with this place, it's so clean and white—there's so many possibilities," art major Michelle Handal said. "It's really great because we finally have a building where all of our art and multimedia is in one whole thing so it's not separated throughout campus, and it finally has good air conditioning."
Janet Neuwalder is a professor who teaches ceramics at California Lutheran University and was relocated to teach in the new building. Neuwalder was excited to share her renewed experience.
"My ceiling doesn't leak. I have some new equipment that will be working soon once it's hooked up, there's more space, and I think what's lovely is that students can come from their other classes and just come on over and work in here, and I can also walk over to their other studio where they have their drawing class and see what they're doing there with such ease," Neuwalder said.
The path to getting the environmentally sustainable building erected was not without its challenges though.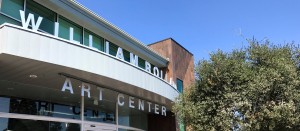 "Number one, we had a lot of rain, so that slowed us down when we started in the summer, but by the fall, the rain slowed down our framing process. We had, I think, overall, two months of delay added to our schedule, so it was very tight to finish it," Cal Lutheran's Capital Project Assistant Christine Cano said.
Despite the time setback from rain and extra organizing, the building was still erected in time for the new 2017 school year.
Cal Lutheran and one other individual are the reason the aforementioned students and professors are able to feel the way they do towards the new building— one large funder for making this building a reality is real estate developer William Rolland.
The cost to fund the building was $8 million, and Rolland donated $4 million.
Rolland says he contributed the amount of money he did to Cal Lutheran in general because he lives in the area. He's always had the highest respect for Cal Lutheran and believes that as years go by, Cal Lutheran will be a major power in this nation."
"When I was a young man— I'm now 84— UCLA was just a little school in a village called Westwood, and now UCLA is tremendous in size and depth, and I do believe Cal Lutheran, as it's ahead now and headed down the road in developing itself, I believe it's going to be a superpower like UCLA and I have great respect for Cal Lutheran and what they've accomplished in the years I've been around," Rolland said.
Lara Santos
Reporter