Regals Roll Past Redlands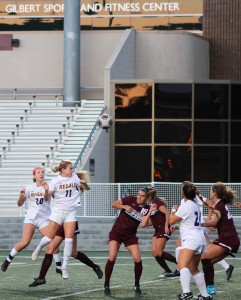 On Wednesday Sept. 13 at 7 p.m. on a brisk evening inside  William Roland Stadium, the California Lutheran University women's soccer team was victorious, beating Redlands by a score of 3-0. The three goals the Regals scored were by junior midfielder Sarah Tadeusiak, junior defender Riley Martin and freshman forward Sam Cornejo.
In the first half, play was tightly contested between both teams and the score was 0-0 through the first 47 and 1/2 minutes. Only two and 1/2 minutes into the second half, Tadeusiak was able to get behind a Redlands defender who did not see her. She then scored off of a cross from freshman defender Trinity Martinez, making the score 1-0 and breaking the tie.
"The energy we brought in the second half really helped us to get that momentum change and we were able to play our game. I think we played defensively well from forward to defense, so that helped us too," said Tadeusiak.
Martin's goal came at the 18:36 mark of the second half, putting Cal Lutheran up by two goals. The ball came from the right side and Martin's forward was not open, so she had an opportunity to take a shot and she drilled the kick past the outreached arms of Redlands' goalkeeper.
"Our speed of play was a factor and the combination of set plays we worked on in practice helped us with the win. In the first half we were a little bit shaky but in the second half we really picked it up and dominated," said Martin.
Cal Lutheran's shut out of Redlands was due in large part to the strong defensive efforts of senior Olivia Leyva, Martin, and Martinez. The Regals defenders were able to lock down Redlands' attack and limit them to only seven shots, three of which were on goal.
In contrast to Redlands' offensive struggles, Cal Lutheran dominated on the offensive side, getting off 22 shots, 14 of which were on goal. Senior forward Alexandra Albaeck fired off five shots with two on goal, and Tadeusiak and Cornejo each had three shots on goal to lead the attack. Cal Lutheran also had a large advantage in corner kicks over Redlands, 9-2, which helped facilitate scoring opportunities.
Head Coach Frank Marino reiterated that the keys to the Regals victory were that the team stuck to their style of play, did not get discouraged in the first half, and continued to play well which led to the goals.
"We did exactly what I asked them to do and played the way we are capable of playing. If we can do that all year we will be successful," said Marino.
Regals goalkeeper Alysa Frazier recorded her first shutout of the season, making three saves between the posts. Despite allowing three goals, Redlands goalkeeper Hannah Menk had 11 saves to her credit.
Overall, the contest was played physically, as the referees called 19 fouls, 11 on Redlands and eight on Cal Lutheran. In addition, Cal Lutheran was called for three offsides and Redlands was called for one.
Looking ahead to the Regals next game, Coach Marino said, "We have to do a better job in the final third of the field and finish more of the chances we are getting." Cal Lutheran improved to 3-1 on the season and will travel to Claremont, Calif. on Saturday, Sept. 20 at 5 p.m. to face Claremont-Mudd-Scripps.
David Brown
Reporter