Kingsmen Grab Important Win To End Losing Streak
The Kingsmen water polo team ended a five-game losing streak after they were able to pick up a win against Cuesta College on Friday to end the two-game day on a high note.
The day started with a tough battle against Division I side Air Force Academy, who were able to get up early and end the first period with a 4-2 lead.
"I thought we were playing really well. We made one or two mistakes and I think we let that get to us… We start trying to do things on our own and not just rely on patience and on the team concept," Head Coach Craig Rond said.
The Air Force Academy capitalized on those mistakes and added six goals in the second period and conceded none.
The third period was much of the same as the Air Force Academy put five more in the back of the net. The Kingsmen were able to answer back with two of their own from some well-placed shots by seniors Chris Gardhouse and George French, making the score 15-4 going into the fourth and final period.
"It's a great Division I team that is well coached with some great athletes, but I think we just came into it a bit nervous," Gardhouse said.
The men in violet and gold were able to cut the deficit to seven as the game came to an end with a dominant fourth period that saw them score four and give up none.
Gardhouse was able to add another one to his name, and was joined by sophomore George Lundgren and freshman Andre Laserna and Parker Jory with goals of their own to bring the final score to 15-8 in favor of the Air Force Academy.
"Execution… in terms of plays and drives, we did a very good job of that. Towards the third and fourth quarter we communicated a lot better and that is something we have been trying to improve on for a while now," junior Ramon Olivier said after asked what the team did well in game one.
Cuesta College was the second opponent of the day and they had no shortage of wins as they came into the weekend with a three and one record and were looking to add one more against a battle-tested Kingsmen side.
A key point from Rond for his Kingsmen team heading into this game was communication.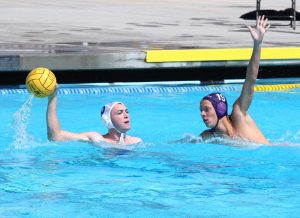 "If you don't hear them talking more out there we are probably going to see the same results, but if they communicate and stay within a good team concept and system we should be good," Rond said.
Gardhouse doubled down on his coach's key point as he stressed that the team needs to "stick with what we know…if we stay true to what we do and who we are offensively and defensively it should be a good game for us."
The end of the first period saw the Kingsmen on their back foot, but that quickly changed as they scored five in the second with two coming from French to bring the score to 7-4 heading into the break. 
The momentum swung towards Cuesta College in the third as they scored three goals and conceded one, but the lone goal from Gardhouse allowed the Kingsmen to maintain the lead heading into the fourth.
The teams battled back-andforth in a dead even final period, which saw both teams score four. Three of the four came from Gardhouse as he registered a hat-trick. Cuesta College gave it their best effort, but ultimately fell short as the Kingsmen were able to hold them off in the end and win by a score of 12-11. This was the first win of the season for the Kingsmen.
The Kingsmen will look to carry their momentum into conference play as they face off against Occidental Wednesday Sept. 20 on the road at 4 p.m.
Gabe Naudin
Reporter