At 8 a.m. on  Saturday, Sept. 16, students from California Lutheran University, in partnership with volunteers from the city of Ventura and a non-profit called United Way, began their day serving the community in  the annual Day of Caring.
While projects occurred around various parts of Ventura County, Cal Lutheran students who signed up through the Community Service Center participated in one of four service events. These included a Thousand Oaks Botanical Garden clean up, cleaning books at the Simi Valley Library, cleaning up a river and harvesting oranges for Food Forward. 
The Day of Caring has been a longstanding Cal Lutheran tradition, according to Madeline Liberti, Cal Lutheran's community service coordinator. Liberti also said the event is important for student organizations.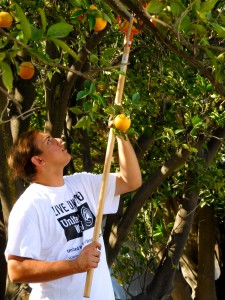 "The perk of having clubs and organizations sign up for this event is that it is a really easy way for them to get their service requirement," Liberti said.
Some of the clubs and organizations in attendance were the Happiness Club, Dance Team, Anime Club, the Criminal Justice Student Association, and even a Freshman Seminar class.
Happiness Club, alongside other students and community members, helped Food Forward harvest oranges. Food Forward is a non-profit that harvests unwanted fruit and vegetable crops and takes leftover produce from Farmer's Markets and distribution centers to donate to people and places in need in the community.
"Their policy is wherever we're picking, to try and do the non-profit in the area where we're picking," said Joyce Parker, a pick leader for Food Forward.
The orange tree harvest Cal Lutheran students participated in on Saturday in Simi Valley was brought to local causes such as the Simi Valley Senior Center, Moorpark Catholic Charities, Pantry Plus, the Thousand Oaks Methodist Church and the Samaritan Center, according to Parker.
Laura Willits, Community Service Center intern and Happiness Club president, coordinated the Food Forward project while also helping her club fulfill community service hours. Willits believes service is an important part of keeping a bigger picture in mind.
"As college students, we're so focused on ourselves right now, which is okay because we have a lot of stuff going on, but I think it's such a great opportunity to realize there's a whole big, wide world outside of Cal Lu," Willits said.
As a partnership with United Way, a nationwide non-profit dedicated to service and the city of Ventura, Liberti said this day goes beyond Cal Lutheran.
"It's a great opportunity to meet others in the community. That's why I specifically held just a certain amount of spots in each project, so that students are able to interact with other people in the community who just want to volunteer," Liberti said.
Natalie Elliott
Reporter