Many students make it a point to personalize the space they inhabit when dorming, and the individuals from Thompson 101 have done just this and more.
Walking in, the first thing to be noticed is the atypical wallpaper, as it is not seen in any other freshman dorms, and its two shades of grey vertical stripes running down the length of one wall. The rest of the room  carries a customized theme featuring the colors grey, black and white.
Most immediate to the door is a television propped above cubbies that match the aforementioned color scheme, and a glass coffee table and large couch placed before it.
To the right is a long row of a single desk, contrasting from prior years' utilization of individual desks, with their chairs neatly pushed in, and atop this desk are more individually designed cubbies showcasing what is important in each resident's life.
The individuals that live in Thompson 101 for the school year are five freshmen— Moriah Collins, Samantha Cornejo, Kristen Garrity, Trinity Martinez and Kaitlyn Weaver.
The  five wanted to personalize their living space and did so in the weeks they moved in, which was prior to the start of the school year on account of being part of the soccer team.
"It's like our home for the next eight months, so we wanted to definitely make it cozy and our own space," Collins said.
Garrity said, "I feel like it was way easier to move, you know? Going from home to here made everything easier because this feels like home now. When it's more cozy, it just feels more comfortable. And since we always have our door open, we've met so many more people because they're like 'oh your room is so cute' so they want to come in and they look at it and we meet more people that way."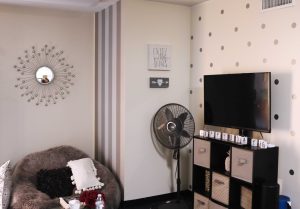 The process in turning this room from empty space into a customized residence was a team effort.
Garrity said, "So basically, during the summer, after we all decided that we wanted to dorm together, we all kind of said 'I'll bring this', so Moriah brought the couch and I brought the coffee table, and then Katie's stepmom was like 'I have so many good ideas.'"
Though there has been word about Kaitlyn Weaver's stepmother being an interior designer and therefore the reason the room was decorated to the extent it was, Garrity cleared the matter up.
She said, "She's not; that's a rumor. She just had so many good ideas. And she kind of had a theme she wanted to go with, so she kind of did a lot of it."
In general, the girls have made living five to a room harmonious. However, they do admit to worrying about the situation initially. Though Cal Lutheran has had instances in which they have had five individuals living in one dorm in the past, it has still come up as a topic of discussion the past few semesters.
"When we found out that they changed the rooms from four people in it to five people, we were all really worried that it would be just too much, but honestly, it's not bad at all. We make it work. We all have our own separate things—separate boxes, our own space we can keep our storage, and that helps," said Garrity.
"The room of three—it's definitely not a problem. Each of our closets is bigger than the room of two. And we have a lot of space in between our beds," Collins said.
Sophomore Sofia Mikaeili is one resident assistant for Thompson. She had the unique experience of getting to know the five girls in Thompson 101 well because of their early move -in.
"They were one of my first residents coming in because it's an entire room of soccer girls, so they moved in, I wanna say, a week or two before everyone else did. They were the first faces I got to see, so I'm definitely a lot closer to them just because I got to know them in the two weeks without anyone else around, so I know a lot about them," Mikaeili said.
Lara Santos
Reporter