When One Chapter Ends, Another Begins
Molly Holloway, athlete of the week and member of the 2015 Division III National Champion, has been passionate about volleyball since she was nine years old.
According to Holloway, unlike high school sports, joining the California Lutheran University team is more goal-determined and she feels constantly motivated.
"This sounds cliché, but what motivates me is playing for the girls next to me and for my coaches because of the hard work they put in," Holloway said.
Holloway mentioned the road to improvement and seeing her parents supporting her on the sidelines pushes her to work harder.
"It's rewarding for them, which motivates me," Holloway said. "They're the people who pushed me and I see it as something they can experience as well."
Head Coach Kellee Roesel has coached Holloway during her entire athletic career at Cal Lutheran.
"Molly's hard working, selfless, dedicated, athletic, and takes criticism well," Roesel said. "She's a kid who has a really high ceiling and who fits our athletic mold."
According to Coach Roesel, Holloway competed against some of the best players in the nation during her first three years as a Regal. Holloway started right off the bat as a server during her first year and has faced several high pressure situations. Coach Roesel said, Holloway is "a constant source of support" for her teammates.
"It will be a hard road for me when she graduates," Coach Roesel said. "I'll miss everything about her, but I'm excited for her to move on to the next chapter of her life."
Like Coach Roesel, Holloway feels bittersweet about having one last season with the team. According to Holloway, the experiences and memories she's made as a Regal will never be forgotten.
"My favorite part about being on the volleyball team is the amount of friendships I've made through the years," Holloway said.
Holloway mentioned that the connection within the team is undeniable. Mikayla Dobson, Holloway's roommate and senior on the volleyball team, says she and Holloway immediately bonded their first day of practice freshman year.
"We just clicked," Dobson said. "At first we were just freshman who didn't really know each other. We started walking to practice together everyday and before we knew it sophomore year rolled around and we decided to be roommates. Now we are both seniors living in a house together."
Energetic, optimistic and loving are three words Dobson used to describe her volleyball companion. Dobson also identifies Holloway as the fiery goofball on the team.
"Molly's very personable. It doesn't matter if we're winning or getting creamed, she will always be dancing and cheering for you," Dobson said. "She's someone who can put you in your place while also being your shoulder to cry on. She's just a loving, caring and full-hearted person."
Apart from athletics, Holloway is also a full time student with a passion for fashion design. She will graduate this May with a major in Business Administration and minor in French. During her junior year, Holloway studied abroad in France where she attended the American Business School of Paris.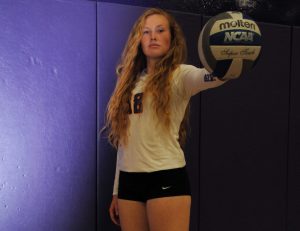 "It was an incredible experience," Holloway said.
While in France, she took two business courses, one French class and one fashion designer elective. She was able to visit nine countries while studying abroad and said she was intrigued by the various cultures among the different countries. After visiting these cities, however, Paris still remains her favorite.
"I've been to Paris once before and I loved it because it's the fashion capital of the world," Holloway said. "It works out perfectly for me because it has business, French and fashion all in one."
According to Holloway, she had always fantasized of living in Paris. However, after living there for four months when studying abroad, she is reconsidering her childhood dream.
"It's hard because it's a different culture and language. I wouldn't fully knock out the decision of living there one day, but it would be a huge decision for me if I decided to move there," Holloway said. According to Holloway, there are several great fashion schools in Europe that she is interested in so she won't be a surprise if she finds herself going back again in the near future.
Following graduation, Holloway plans to take a year off to work in her hometown. In addition, she plans to apply to fashion schools around the world including California, New York, London and Paris to pursue her passion of fashion design.
"Through these past four years, I've met so many people and had many amazing experiences, like winning the National Championships and studying abroad in Paris," Holloway said. "I've been given all the opportunities I've needed and feel like I've grown as an athlete and a person."
Christie Kurdys
Reporter