Emergency Planning App Released Over Summer, Campus Safety Still Promoting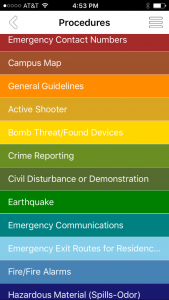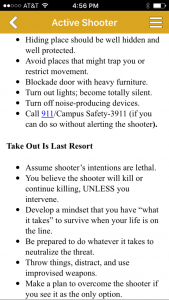 Over the summer, California Lutheran University released its first safety application. The app  features emergency contact numbers, what to do in the case of an active shooter situation, earthquake information, emergency exit routes for residence halls and even a built-in flashlight for Android and iPhone devices.
According to Campus Safety Director David Hilke, the app, My-EOP, is designed to assist the Cal Lutheran community in emergency situations.
"The app was created to provide students, faculty and staff with information relating to campus and local emergency numbers, escort information, fire alarm information, and crime reporting," Hilke said in an email interview.
Hilke said the app cost about $3,000 and took 12 months to get up and running.
The app is "designed as a quick reference of emergency preparedness directories and emergency operations plans," according to the My-EOP publishing company, GCC.
An email was sent to the Cal Lutheran community before the fall 2017 semester commenced outlining information on the app. However,  Hilke is aiming to get the word out to more students.
"Students, faculty and staff will receive additional emails throughout the year as a reminder to download the app.  I am in the process of exploring other options for advertising the app to students," Hilke said.
Of 30 students verbally surveyed about My-EOP, only one had heard of the app and none had downloaded it.
Although students were unfamiliar with the app, they were open to the idea of downloading it. 
Julia Lopez, a senior at Cal Lutheran, said it would be convenient to have safety information at her fingertips.
"I didn't know Campus Safety has an app. It would've been really cool to know, because what if there was a shooter on campus? It would be useful to have because I don't have my CLU gmail on my phone, so it'd be cool to have all the information on the app," Lopez said.
The My-EOP app can be downloaded via a mobile device store. After downloading the app,  the school code "Cal Lutheran" and password "eop2017" will give users access.
Campus Safety does not have information on how many users have downloaded the app thus far, but Hilke has contacted My-EOP to see if they can provide those numbers.
"In my previous place of employment, I created emergency guideline flip-charts that were placed in classrooms and offices around campus.  The My-EOP app eliminates the need for paper copies of the emergency guidelines and any edits to the material will automatically update on the app," Hilke said. 
By going paperless, Hilke also said the information will be more available and accurate.
Features of the app include a complete list of emergency numbers, from Campus Safety to the Suicide Prevention Center. Fire information, exit routes for all residence halls and how to seek shelter in cases of violent criminal action, severe weather incidences, air chemical hazards and fire or smoke when evacuation is not an option are all included.
Utility emergency information is also included in case of an outage similar to the one experienced earlier this semester.
More information about the app can be found in the Campus Safety office, or by contacting  [email protected]
Priscilla Romofsky
Reporter