Regals Defeat Redlands In Four Sets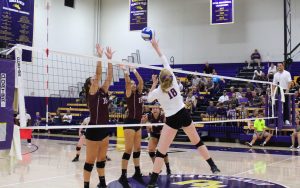 In four sets, the California Lutheran University women's volleyball team defeated the University of Redlands, 3-1 inside of Gilbert Arena. The Regals won the first two tightly contested sets, then Redlands took the third, before Cal Lutheran was able to pull away in the fourth with a decisive 25-16 score.
Junior outside hitter Amanda Roberts had 10 kills and 15 digs, and senior middle blocker Molly Holloway recorded 11 kills, three aces, six blocks and two digs.
"Staying patient and taking each play one by one was key, especially coming after that third set. We executed the defense we were running pretty well, had 11 blocks as a team, and we were digging balls left and right and stood strong offensively," said Holloway.
Junior middle blocker Paris Dosch also had 11 kills, while senior outside hitter Hope Stewart hit nine kills and sophomore outside hitter Carly Rose Howard added six kills and eight digs.
"We always say it and live by it-we call it CLU volleyball. Just focusing on ourselves and trying not to worry about what the other side is doing. The energy and bonding that we have together is uncomparable and that is a huge thing for us in games,"
Roberts said.
The match was hard fought throughout as Redlands had 74 digs to Cal Lutheran's 72, and Redlands also had six aces, while Cal Lutheran recorded five. In addition, the Regals had a .222 hitting percentage in comparison to Redlands' percentage of .132.
Head Coach Kellee Roesel added, "I think our defense played pretty good, it's probably the best blocking match we've had. I thought our kids were pretty clutch in the fourth set after losing the third set and we were able to play our style of volleyball."
The score was 9-9 in the fourth set and the match could have taken a turn in Redlands' favor. However, the Regals gained momentum after a pair of Redlands' attack errors and vaulted into a 19-14 lead, which they held the rest of the way until the final score, 25-16.
Building off the win, Roberts said, "We're just trying to use every game to improve. We know it's only going to get harder from here on out and we are trying to put ourselves in a situation to make the SCIAC tournament."
Holloway said that the team would use the momentum from this win and it would give them confidence in their game plan which has been effective as of late.
Another key contributor to Cal Lutheran's win was junior setter Steph Rolfson, who had 41 assists and 13 digs. Freshman libero player Emma Cisneros-Luebke had 21 digs as well and sophomore right side hitter Amy McKee added three kills.
Cal Lutheran improved to 7-8 on the season (3-3 SCIAC) and Redlands dropped to 3-8 (1-5 SCIAC). The Regals' next game is Saturday, Sept. 30 at Caltech starting at 2:00 p.m., in Pasadena, California.
"Against a team like Caltech we want to work on our freeball offense and make sure our serving and passing is dialed in because we are playing one of the top teams in the nation, Claremont-Mudd-Scripps, on Tuesday," Roesel said.
A substantial number of 215 people (clusports.com) attended the game inside Gilbert Arena. Cal Lutheran students and fans helped cheer on the Regals to victory.
David Brown
Reporter