Kingsmen Overcome Leopards
The California Lutheran University men's soccer team took on the University of La Verne Leopards Saturday, Sept. 30, at William Rolland Stadium.  The game was physical and both teams fought strong throughout the game.  It ended in a 2-0 win for the Kingsmen, thanks to senior midfielder Diego Ortega who scored both goals in the first half and one of the goals was assisted by senior midfielder Jaime Alvarado.
"We knew it was an important game so we came out strong," said senior goalkeeper Eduardo Garcia.
Kingsmen came out strong in the first half by attacking the Leopards goal. Ortega capitalized on a rebound in front of the Leopards goal and scored his first goal by putting the ball into the bottom left corner of the goal 19 minutes and 43 seconds into the game.
The Kingsmen kept up the pressure on the Leopards defense until a pass coming from Alvarado resulted in the second goal by Ortega at 24 minutes and 14 seconds. After the first half, it was 2-0 with the Kingsmen leading the Leopards.
"I thought we started.  We started off having a lot of possession and moving forward," Ortega said.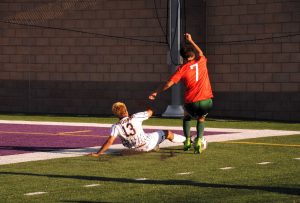 The Kingsmen dominated possession in the beginning of the second half. The Leopards came out strong in the beginning of the second half but could not manage to score.  The second half became more physical towards the end.
Junior defender Cristian Yepez, junior defender Charlie Villa-Lovos, and sophomore forward Alon Arnaldes all picked up a yellow card in the second half. Leopards player Johnny DeRueda also picked up a yellow of his own. Eventually, neither team ended up scoring in the second half despite the physicality and effort of both teams near the end of the match.
"They gave us a little bit of a run in the second half," Head Coach Dan Kuntz said.  "Once we got that settled, then we were able to win the ball."
The game ended with the final seconds winding down while Leopard players were attempting to set up for a corner kick that they were ultimately unable to take.  The Kingsmen won 2-0.
"Anytime you can win a game and have no goals scored against you, in this game, is fantastic," Kuntz said.  "Eduardo is constantly talking to the backs and the midfield…which helps tremendously."
Jack Hoy
Reporter