Food Truck Frenzy Rolls onto Campus
Food trucks cruised onto the campus of California Lutheran University once again to kick off the second Food Truck Frenzy event.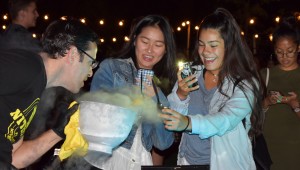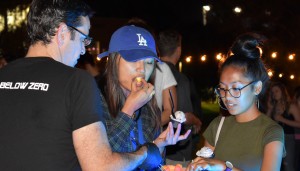 The event began at 7 p.m. in Kingsmen Park and drew a crowd of students with a line stretching nearly to the Pearson Library, each of them waiting to be one of the 400 people to receive two free tickets to be redeemed at the food truck of their choice.
Associated Students of California Lutheran University Programs Board Director Samantha Schindler recalled that the Food Truck Frenzy event two years ago had been a success, and expected a similar outcome this time around, while making a few adjustments during the planning process.
"It was pretty positive feedback from students, it was just there wasn't enough food. So we upped the budget to make sure that everybody could get all the food," Schindler said.
Schindler said that $14,000 was allocated to Food Truck Frenzy during the Spring Retreat, allowing enough funds to bring four food trucks to campus.
Only three food trucks, Boba Tea and Me, Jalisco's Mobile Taco Grill, and NITROPOD Truck, however, came to the event. One food truck, Joe's Pizza Truck, was unable to make it.
Long lines were formed, both to get tickets and to wait at the food trucks themselves.
Cal Lutheran sophomore Jenbenton Jean-Baptiste embraced the process of the frenzy and made the best out of his wait.
"I'd say the food was really good. It's just the turnout was really huge and I don't think anyone was expecting that big of a line and this many people to show up. But, I mean, I had a great time standing in line with my friends and I'm a pretty social person," Jean-Baptiste said.
The event was advertised on Cal Lutheran's HUB calendar and across campus. Word of mouth also brought students out.
"My roommate told me about it. It was a long wait, but I got my food so now I'm happy," said senior Michelle Francois.
Food Truck Frenzy's planning was a long process, dating back to mid-summer.
"I believe Mariela started planning it in July, when I asked her to do it, and we've worked with Roaming Hunger. It's a company that kind of gets food trucks together and sets it all up for us so we just go through them and they just take a little bit out for themselves for setting it up," Schindler said.
Working with Roaming Hunger has streamlined the process of bringing food trucks on campus, so there were few speed bumps in the planning process.
"I mean, for the most part, I think it was smooth. It was just kind of coordinating with Roaming Hunger because the way they work is they give us certain invoices that we use to submit the contract but we need something, like a specific piece of paperwork from them, in order to submit it to the Business Office for payment," Schindler said.
After coordinating the contract with Roaming Hunger, there were no "major hiccups" with the event and everything happened on schedule, Schindler said.
Schindler said she does not think there will be any event similar to Food Truck Frenzy happening on the same scale this year. However, she said to keep an eye out for food and activity drop-ins at off-campus businesses throughout the year.
Priscilla Romofsky
Reporter