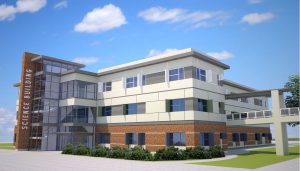 California Lutheran University is planning to add a new science building, to be completed during fall of 2020, said Ryan Van Ommeren, facility operations and planning associate vice president.
Van Ommeren said that the new science building will be located along the Spine behind the Ahmanson Science Center and will require the demolition of the F building.
Van Ommeren also said that the new building will have three floors and be roughly 47,000 square feet.  The building will also have a bridge that connects it to the Ahmanson Science Center.  It will be the largest academic building on the Cal Lutheran campus.
Kristine Butcher, professor and chair of the chemistry department at Cal Lutheran, said that the chemistry department will be the only science department to completely move out of Ahmanson and into the new building.  Biology and exercise science will partially move into the new building, but will still remain in Ahmanson.
Van Ommeren said the new science building will also add lab space, allowing the geology, biology and physics departments to move completely out of the D building.
"We grew out of this building years ago in terms of adequate space, and ability to have equipment, so we're really pushing the limits right now.  The university is really good about letting us remodel this building [Ahmanson Science Center] in some ways, but there's only so much space," Butcher said.
Butcher said that with the addition of the new science building, students can expect to see more sections for the science classes. She also said class sizes could become smaller, and that the courses may become more available to students.
Although current students will have likely graduated by the time this building is completed, students such as junior biology major Allison Menendez are eager for future generations of Cal Lutheran students to benefit from the new facility.
"I wish it could be finished before I graduate so that I'd actually be able to use it, but I'm happy that they're making a new building.  It was manageable in Ahmanson but it was getting a little hectic and you could tell that it caused problems for both students and professors," Menendez said.
The final decision on the building will not be made for a couple weeks. If the plan is accepted, construction can begin, Van Ommeren said.
Anne Mukai
Reporter