Student Entrepreneurs Launch Their Own App
What began as an in-class project in Entrepreneurship 101 has grown into a multi-level startup application, called FamWe, which will be launching on the Apple Inc. app store on Oct. 4. The co-founders of FamWe are senior Evan Brandt, junior Jake Gould and graduate student Bhushan Parulekar.
Brandt said he first met Gould while playing football for Cal Lutheran. Later, Brandt and Gould took Entrepreneurship 101 with professor Renee Rock, who teaches entrepreneurship and business communication at California Lutheran University. It wasn't until spring semester 2017 that Brandt and Gould decided to run with their budding project, Brandt said.
"I didn't have much of a background in entrepreneurship, actually. But I always thought of technology companies as the leaders in entrepreneurship, and I associated Silicon Valley with apps that solve problems for everyday people," Gould said.
Originally, Brandt and Gould "went the freelance route", where they "looked at different companies to build out and develop a prototype," Brandt said. After searching for an app developer and deciding it wasn't the route for them, Brandt and Gould decided to switch their focus to a local IT expert, graduate student Parulekar. Parulekar said he was working on developing his own app at the time when he was approached by Brandt to join the development team for FamWe.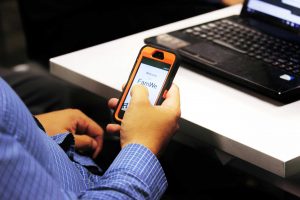 "We got very lucky with Bhushan [Parulekar]. In the startup world, you don't want unnecessary players. Most software companies have different people for interface, backend coding and data, and someone who connects the two on the database. [Parulekar] does it all, and he's very humble about what he does," Brandt said.
Brandt said FamWe was designed to "help parents manage the household and assist with child development." The app allows parents to assign, track and reward their children for completion of tasks and goals, as well as good behavior. Brandt said the group "surveyed a couple hundred families to see what worked and what didn't," and how they could best meet the needs of families.
Along the way, Brandt and Gould said they sought out the entrepreneurial advice of Mike Panesis, the executive director of the center for entrepreneurship. Panesis said that as the executive director of the center, he receives multiple guidance requests and questions from students on how to begin a successful startup.
"It's easy to have an idea, but it's difficult to see it through. It's the resilience of waking up everyday, knowing what you have to do, and if things don't go your way, waking up the next day and do it again until you get to the point where you are successful," Panesis said.
Parulekar said that developing the FamWe app did not come without its technological struggles. The app was originally scheduled to be released in July, but the recent iOS update that was released by Apple forced Parulekar to redesign and restructure the backend portion of the app that controls data processing and app functionality. However, Parulekar said that being meticulous in making sure their product works is his primary focus of importance.
"It's really about doing things everyday over and over again, with the right people, the right co-founders. That's important," Parulekar said.
Panesis said very few undergraduates graduate with the desire to become an entrepreneur right away, and that "having students launch a startup business while they are still students is very rare."
He hopes other students know that starting a successful business, either in or out of college, can be done.
Olivia Schouten
Reporter