Collins' Resiliency Overcomes His Adversity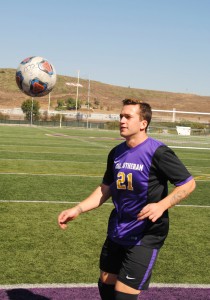 Cody Collins plays for California Lutheran University's men's soccer team, but he is passionate about more than just athletics. He also loves to ride motorcycles. In fact, Collins has been doing it since he was three years old.
Over the years, the right midfielder has been in a few minor accidents and three major ones. He had surgery in 2015 due to one of the major accidents that caused him to lose two fingers on his left hand. Despite all this, Collins never let his injuries affect his passion and is dedicated to the sport of soccer.
"I was going around a long left turn and as I was going around the turn, my rear tire hit a pothole and it bounced up in the air and came back down, and when it came back down, it got traction really aggressively and it shot over. It basically highsided me, is what it's called, and then after I highsided, I flipped, and that's when I broke my shoulder, my clavicle broke in half and my scapula was broken as well," Collins said.
Collins mentioned that the motorcycle flipped on top of hi m and his hand was caught in the chain and sprocket. His motorcycle dragged him to a stop with his hand still caught in the chain. Collins was eventually able to get his hand free, but unfortunately the damage to his hand was inevitable.
Following the accident, medical staff operated on his hand. Collins ended up having a successful surgery, which resulted in him losing only two fingers even though he was expected to lose more.
"It was hard for me at first because I was in a cast with pins in my hand and everything for nine months, and I had no range of motion in my shoulder," Collins said.
However, he said that the way he played soccer was not impacted by the loss of the digits, but more by the physical condition in general, like being restrained from running.
Assistant Men's Soccer Coach Ivan Sanchez has seen Collins play for the past four years and has known him throughout the accidents he has been in. Sanchez has known him from the time he was a player on the junior varsity team, to now, where he is on the varsity team as a starter.
"He's developed over the years, I mean, I've seen him on and off the field, and when I see him on the field, he's had a lot of improvement. He's also had quite a few accidents where I haven't seen him on the field a couple years, but as far as this year, he's really been a big part of our system and our whole team because he brings something different to the team," Sanchez said.
Junior midfielder Stevie Ray Trujillo plays on the team with Collins, and his words echo those of Coach Sanchez.
"On the field actually, he has some of the best vision on the team. He sees things straightforward. His teamwork— he's very open to ideas to other teammates and stuff. And he's a very intelligent player, on and off the field," Trujillo said.
Trujillo and Collins first met when they started partnering up to work out. The two have remained close ever since, both on and off the field because of their similar views and shared tastes in music. They look out for each other during games.
"The best part is how hard he plays. He really puts his body on the line; that's really evident in our last game together— he got tackled and beaten up pretty bad by our opponents, and he kept pushing through, he kept a cool mind throughout the whole time, and I think that's really beneficial to our team," Trujillo said.
Collins brings this resilience and applies it beyond the sport he plays. Both his teammates and coaches see that his resiliency impacts his life as well.
"He's always trying to improve himself, and based off other experiences, he's had a couple crashes and he's always been able to get back up and keep going, and not let that fear of crashes keep him from doing what he enjoys, which is still riding motorcycles," Sanchez said.
He mentioned Collins' resiliency is what  helps him, no matter what the injury he has or whatever it is in front of him. It allows him to keep moving forward and keep striving to his goals and to the goals of the team.
Lara Santos
Reporter