Lancer Roscoe Returns to Cal Lutheran
Lancer Roscoe is an alternative/indie band that will be performing at the homecoming picnic this coming Friday, Oct. 13.
The band features Cal Lutheran alumni Caleb Arndt, Riley Herrera and Torrance Klein.  It also includes current Cal Lutheran juniors, Lucas Frankel and David Cheung.
"People always ask us but no, nobody in the band is named Lancer Roscoe" said Caleb Arndt who plays guitar, keys and also does background vocals for the band.
Arndt said that the band started out with himself and Klein who knew each other from high school.  Although Klein, who plays bass, originally went to a different university, Klein and Arndt remained friends and would often share with one another new songs they had written.
Klein said he transferred to Cal Lutheran and then Arndt and him decided to start a band together.  The current band members may not all be original, but each person brings something different to the band.
"We each have our own taste and music style and we pull inspiration from different artists.  It makes our sound unique and interesting," Klein said.
So where did the name Lancer Roscoe come from? Arndt said that the name was actually based off a misunderstanding when they were students at Cal Lutheran.  Arndt said they were listening to KCLU [a local radio station] and one of the programmers was named Lance Orozco and from him they got the name Lancer Roscoe.
Throughout the creation of Lancer Roscoe, Arndt and Klein attribute much of their success to Cal Lutheran.  From music professors to religion professors, Arndt and Klein appreciate those who taught them at Cal Lutheran. Klein said that the band would probably not exist if it weren't for Cal Lutheran.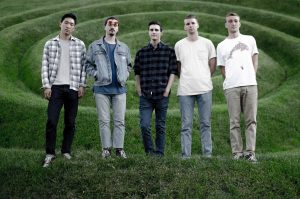 "The hands on nature of CLU was a big factor in helping us become who we are," Arndt said.
They believe it was Cal Lutheran's tight and supportive community that enabled them to shine.
"Because it's a small school you get more of a chance to become something here.  At a big school there's 100 bands trying to do the exact same thing as you," Klein said.
Arndt said that the band was really lucky to have so many people who cared and wanted to see them go further with their music career. They are thankful for all the Cal Lutheran faculty, staff and students that have encouraged them.
"The one advice I'd give to Cal Lutheran students is to support local. Honestly, just get out there and start your own band and support your friends that want to do something in the arts.  It's important to have faith in each other," Herrera said.
Herrera said that the band will be releasing new music soon and that they've been working on a couple new songs to showcase.
"I really like Lancer Roscoe, I heard their name a couple years back and I decided to look them up.  Now I find myself listening to them and I'm excited to see when they'll drop new songs," said Joanna Portillo, Cal Lutheran junior.
Lancer Roscoe will be performing at 5:30 p.m. for the homecoming picnic in Kingsmen Park on Friday Oct. 13.
Their music is available on Spotify, iTunes, Apple Music and the Google Play Store, but the band says the best way to hear them is live.
Follow the band on Facebook, Instagram, or Twitter to find out where and when they will be performing their music next.
Anne Mukai
Reporter