On Saturday, Oct.14,  alumni were back on campus for the Homecoming Festival in Kingsmen Park at California Lutheran University.
One alumnus, Karsten Lundring, may have graduated in 1965 but he sure never left Cal Lutheran. He is still very involved on campus. Lundring lives right near campus and drives his golf cart over almost daily to attend events, games, concerts and plays.
"I'm the only fan in the sports hall of fame. I didn't play any sports. But I did the same things then that I do now, just be crazy at games," Lundring said.
Lundring and his wife Kirsten who is also an alumna of the class of '64, have only missed about 11 to 12 football games in over 55 years.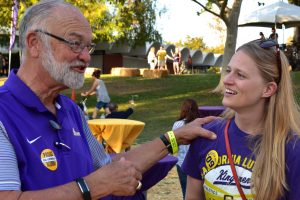 Cal Lutheran wasn't open for Lundring's freshman year, so he transferred from Pacific Lutheran University his sophomore year. The student body then consisted of 156 students and all were of the Lutheran faith.
Lundring's best memories as a student involved music and choir tours, along with being president of the elephant racing association.
The elephant racing association was an event Cal State Fullerton put on in their first year to get their name in the paper.
Lundring explained how the Thousand Oaks Civic Arts Plaza used to be a place called Jungleland that trained animals for movies. Cal Lutheran rented an elephant from Jungleland and attended the race along with 33 other colleges.
The event got Cal Lutheran a lot of publicity in the Los Angeles Times article written after the event. Only four colleges were mentioned in the article and Cal Lutheran was one of them.
After graduation, Lundring was drafted into the Army during the Vietnam War but moved back to Thousand Oaks after.
Lundring worked as a financial planner and recently retired, working way past the normal age of retirement. He said he loved everything about what he did.
"I started as a freshman working as an intern and I retired from that company last year, 56 years later," Lundring said.
Lundring mentioned four things that will make a person referable in anything they do: be on time, do what you say, say please and thank you a lot and finish what you start.
"Follow those your whole life, your life with be amazing," Lundring said.
Another alumna, Sarah Holmes, was in the first graduating class of Cal Lutheran's marketing communication major in 1999.
"Don't be above anything. Be willing to start wherever and go for it because chances are if you take a job you think is below you, you'll move up pretty quickly and it's still a great way to get a foot in the door," Holmes said.
Holmes still works for the same market research company that she first took a job with after graduation and now runs their Los Angeles office.
"It's awesome to come back to campus, I love it. There's like all the nostalgia of getting to visit the buildings, and being back in Kingsmen Park and remembering when it was flooded in '96 because of El Niño," Holmes said.
Holmes also met her husband Richard Holmes who graduated in '98 at Cal Lutheran in a spanish class. He has been working in development and fundraising at Cal Lutheran for 13 years. They have three boys who are aged 12, 10 and seven years old.
Alumna Hayley Woldseth '09 double majored at Cal Lutheran in communication with a media productions emphasis as well as in music, studying voice.
"After graduation, I went to Seattle for about five years and I worked in music marketing up there and the last couple years I've been out in Boston working for a community music school, but just recently moved back to southern California," Woldseth said.
Woldseth is now working for the La Jolla Music Society as their marketing manager. She also recently got married and is excited to be closer to Cal Lutheran so she can attend more events. The people were Woldseth's favorite part about attending Cal Lutheran.
"I've made so many great friends here and I just felt so much like I was a part of a really strong community. It helped me to grow out of living at home with my parents and get ready to be an independent adult, but also in a way where I was constantly supported by friends and faculty and just learning how to build strong, positive relationships as I pursed my goals," Woldseth said.
*Updated 10/17/17 at 3:43 p.m.
Bridget Sjolie
Reporter